350+ With Guns Make Ohio Second Amendment March A Huge Success
By Jeff Garvas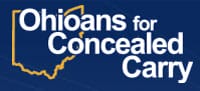 Ohio –-(AmmoLand.com)- Ohioans For Concealed Carry Executive Director Dan White and Vice-President Bryan Torok report that the Ohio Second Amendment March was a huge success.
A substantial number of people between 250 and 500 gathered on Capitol Square at the Ohio Statehouse, many of them openly carrying handguns and long guns. The speakers were well received by the crowd and the significant law enforcement presence was clearly evident from the Columbus PD, the Ohio Highway Patrol, and the Columbus PD Mounted Unit on horseback.
We could have told them there was no need for crowd control – this was a group of law abiding gun owners, not code pink or some other antagonistic gathering. We came to hear the Ohio Attorney General, Nikki Goeser, Skip Coryell from SAM, and other invited guests speak while showing our elected officials we are here and we vote.
As the day progresses and members of the organization make the ride back to their respective corners of the state this story and our discussion forums should have quite a few photos and video to follow. Thank you all for attending and be sure to visit go book a bus seat for the National March on Washington D.C. — we still have seats on both buses!
About:
Ohioans for Concealed Carry, founded in 1999, is a grassroots political activist organization. When founded, the primary goal of OFCC was getting concealed carry passed into law in Ohio. With that accomplished, our mission became to refine the concealed carry law and to expand and preserve the rights of all gun owners in Ohio. Visit: Ohioccw.org