EMA Tactical New And Improved Vertical Forward Rifle Grips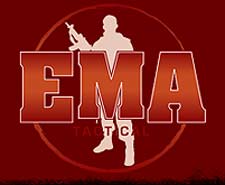 Tullytown PA –-(AmmoLand.com)- EMA Tactical is proud to introduce our new and improved vertical forward grips. Both the Ergonomic Forward Grip and the Short Vertical Grip have been improved by the addition of rubber molded areas on the grips and the addition of other features.
The Ergonomic Forward Grip now has a skeletonized molded rubber back to provide the operator with a more comfortable grasp. Skeletonization reduces weight while the rubber absorbs additional impact.
The addition of checkering on the sides and gripping lines on the front provides a firm grip even when moisture is present.
The Short Vertical Grip has been improved by the addition of a rubber vented grip pattern on both the front and back of the grip. Each side now includes a recessed pressure switch mounting area with quickly removable polymer covers.
Both grips now have a storage area secured with tool free screw cap. A captive thumb nut tightens the grip to the rail on both models. Both models have two locking lugs to prevent any front to back movement along the rail.
Precision manufactured from an extremely durable high density polymer and rubber molding. Manufactured in Israel. Lifetime Warranty.
Available in Black, Tan and OD Green
Item # EVG Ergonomic Forward Grip with Rubberized Back
3.84 oz 2.175" Length 4.75" Height 1.375" width
Item # MVG Short Vertical Grip with Rubberized Parts
3.2 oz 2.125" Length 4.125" Height 1.75" Width
Please contact Chris Murray at extension #108 or [email protected] for additional product information.
About:
EMA TACTICAL is the world leader in the development and manufacture of superior advanced arms accessories. Our products are specifically designed to meet the rigorous demands of tactical solutions required by worldwide armed forces, Law enforcement units & weapon professionals. Visit: www.ematactical.com