McMillan Rifles Free Marksmanship Training Offer
A $500 Value. FREE.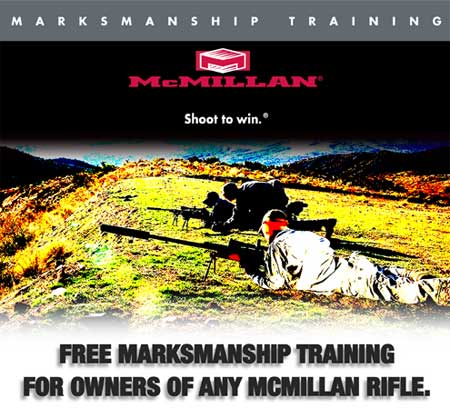 Phoenix, AZ –-(Ammoland.com)- The McMillan two-day Marksmanship Course is free for owners of any McMillan rifle, including TAC-Series, Custom Collection hunting rifles, and Long Range Hunting Rifles.
Taught on McMillan rifle ranges in Arizona, the course covers the fundamentals of marksmanship, the mil-dot system, doping the wind, firearms maintenance and range safety.
You'll work one on one with qualified McMillan instructors engaging targets from a hundred yards out to a mile or more. And you will spend a memorable two days with fellow McMillan owners of all skill levels.
Whether you just bought your McMillan rifle or are a long-time owner, you are always welcome, and you are always free … as many times as you would like to attend.
Be sure to bring a guest, too.
As an owner, you can bring a guest to the McMillan Marksmanship Training Course at no charge. It is a great way to share the McMillan ownership experience with a friend, hunting partner or work associate.
Not a McMillan owner, yet? You can still attend.
The course is also available to individuals who do not own a McMillan rifle for a cost of $500 and includes the rental of a McMillan rifle. McMillan will apply a refund toward the purchase of a new McMillan rifle if purchased during the course.
The next McMillan two-day Marksmanship Course is now scheduled for:
October 9-10, 2010
October 16-17, 2010
Call Now To Register! (623) 582-0536
About:
Gale McMillan, founder of McMillan companies began producing stocks in 1973 for himself for the highly demanding benchrest matches where he competed. Fellow competitors, always in search of the next competitive edge, asked the inventor to produce some stocks for their rifles. From these roots, the McMillan family of companies has grown into one of the most well-known and respected brands in the firearms industry. Visit: www.mcmillanusa.com