Briefcase AR15 Rilfe

Honeoye Falls, NY –-(Ammoland.com)- These days many people are more easily frightened and suspicious than they were just a few years ago.
Ever since terrorists brought their holy war onto American soil, and further fueled by the ongoing wars in Afghanistan and Iraq, people have been keeping a fearful eye out just a bit more than they used to. For most, situational awareness can prevent a bad situation, and keep you and a loved one out of harms way.
For many though, this has brought a state of paranoia. The ever-suspicious neighbor can be easily alarmed by events or actions that were once commonplace and benign. One such action is seeing someone carrying something that looks like a firearm, a container that might contain a firearm, or even worse, one of those evil assault weapons we hear so much about in the media.
In order to avoid incidents with the paranoid neighbors or the criminals who might want access to a firearm, lawful gun owners tend to avoid broadcasting the fact that they're carrying firearms. It seems that these days the preferred case for the AR-15 is one of the many "discreet" offerings that do not scream GUN! everywhere you go.
While one could argue that a rectangular soft case with internal magazine pockets or MOLLE webbing is less conspicuous than the traditional long and thin cases with external magazine pouches, the former is not exactly discreet. The old guitar, baseball or golf club cases camouflage the contents, but in a very bulky, impractical and cumbersome solution and can look out of place in many professional environments.
With the AR-15's ability to separate into its lower and upper components with the push of two pins, this platform offers a user a unique, simple, and quick way to reduce the overall length during transport to just over 2 feet in length. This goes a long way towards opening up the options for shorter and less obvious carry methods. A few excellent cases have been built and sold for this purpose, and many existing non-gun bags and cases can be used to fit these two components.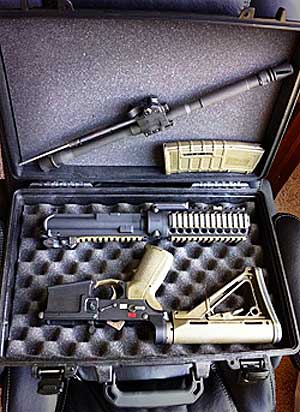 To go one step further, my goal was to fit a full-length (16″ barrel) no-compromise rifle into a laptop case intended for a standard 17″ laptop. This is a case that could be carried to and from work without raising an eyebrow, would not alert the neighbors who might be watching each time you left your house or your vehicle carrying your AR, and would not raise suspicion.
While there are a number of soft padded cases available, I decided to use a Pelican 1490 (interior 18x11x4″) in order to be able to keep it in my car or boat, throw it in a suitcase during air travel, or any other place that I chose to carry it without risking damage to the rifle. As luck would have it, I already had this case sitting around the office because I use it to carry my laptop.
Several briefcase AR designs have made it to the marketplace before. Some have relied on short barrels, and while this is great for those who want to carry an SBR, it does not help the vast majority who want to carry a non-NFA rifle.
In order to fit an upper into a small case, the upper receiver being the longest component has to be broken down further. The key is to do this without requiring tools and 30 minutes to put everything back together when you want to shoot. A few screw-on free-float handguards have been designed to accomplish this and simply screwing the handguard on and off to separate the barrel from the upper for storage. The drawback for me with these systems is that you lose the ability to have a rail system, at least with the versions I've seen, and they typically cannot be used with a standard front sight base. I wanted a rifle that made me give up none of the features I rely on with my personal ARs, but one that was easier to carry with me to the range, training, or anywhere else I needed it to go.
So how do you fit a full-length AR carbine into a laptop case?
As mentioned above, the key is to use a system that will enable you to quickly attach/remove the barrel assembly from the upper receiver. One such system is the QCB upper from MGI. This upper receiver allows the user to change barrels in just seconds. This allows the system to be extremely compact and concealable as well as giving the operator the option of having multiple barrels for multiple functions. It uses standard barrels with the Delta Ring, barrel nut, sling swivel and front handguard keeper removed, so finding components could not be easier. The new QCB-D model now is compatible with piston systems and includes multiple improvements such as Hard Coat Anodized Mil Spec Finish, four full-length Picatinny style rails, new locking arm retention system and more.
I'll have the full writeup and Q&A coming in the newsletter forum as we finish up a few of the details on this rifle.
Currently I have it running with standard DI barrel, CMMG piston conversion kit, and we're working on getting an Osprey Defense solution as well, as that system gives us some additional benefits. The images above give you an idea of how this rifle comes apart and can be stored or carried. In the pictures above, we've merely set everything in the case, as a final layout and foam cutting has not yet taken place. However, as you can see there is plenty of room for mounted optics, a light, several magazines, and a QD sling.
Also, we have not had to make any compromises to get this rifle into the case. We have excellent components from top of the line manufacturers including Daniel Defense, Spikes Tactical, Bravo Company USA, Magpul, Troy, Surefire, Elcan, and CMMG just to name a few.
About:
AR15.Com originated in 1996 as a mailing list for firearm enthusiasts. As the years passed and interest grew, a website came into existence to present those same enthusiasts with a means to collect, share, and explore information. Shortly afterwards, a bulletin board was added to create a more interactive experience for the growing list of users. The site was still in it's infancy, but was growing in popularity. Visit: www.ar15.com