Realistic Airsoft Revolvers at Pyramyd Air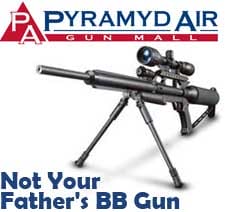 Warrensville Heights, OH – -(Ammoland.com)- The simplistic design, superb reliability, and deadly six shot firing of the revolver has made it a highly popular handgun with gun collectors worldwide.
Although the era of the revolver has passed, gun enthusiasts can still enjoy the classic looks and high-powered shooting mayhem that made this gun famous.
Online air gun company Pyramyd Air sells realistic airsoft revolvers that can be fired comfortably in the privacy of your own backyard.
Pyramyd Air's extensive line of airsoft revolvers fire plastic BB pellets with amazing precision. These guns are faithfully modeled after their real firearm counterparts, and feature comfortable contoured body designs, realistic six-shot cylinders with shells, and powerful shot velocities.
The tip of the barrel of these guns are orange colored to comply with federal regulations.
Gun enthusiasts can also choose between spring and gas powered models, both of which offer an excellent and highly realistic shooting experience with every shot.
Experience and enjoy the authentic look and powerful shooting of Pyramyd Air's airsoft revolvers and many other realistic air guns and air rifles.
All products purchased from Pyramyd Air are backed by an unbeatable 30 day money back guarantee, and an extensive on hand gun inventory allows most orders to be shipped within the same day. For more information please visit www.pyramydair.com.
About:
Pyramyd Air sells airsoft guns, accessories, and ammo from A&K, Aftermath, Beretta, Bushmaster Airsoft, Caspian, Classic Army, Colt, Crosman, Cybergun, CYMA, DMA, Echo 1 USA Airsoft, Firepower, GameFace, GSG, Heckler & Koch, HFC, ICS, JAG Precision, KJ Works, KSC, Magnum Research, RAM Paintball, Remington, Ruger, SIG Sauer, Smith & Wesson, SRC, Tactical Force, Tanfoglio, Thompson, Tokyo Marui, TSD, UHC, UTG, Walther, WE and Well. Visit: www.pyramydair.com