Diizche Safari Adventures Launches New Blog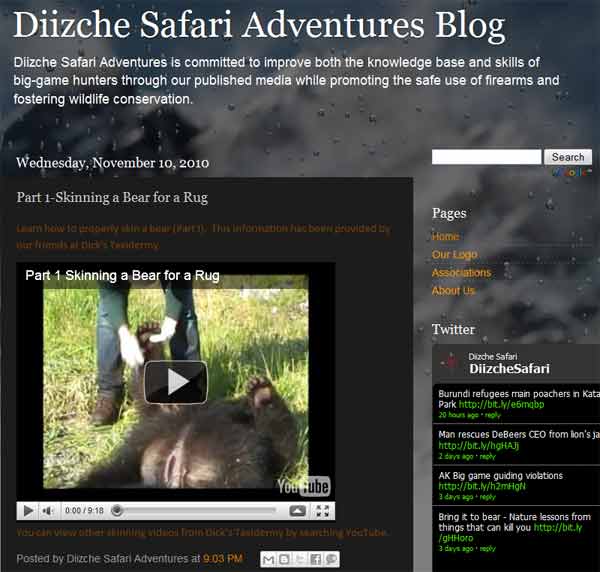 LINCOLN, CA –-(Ammoland.com)- Diizche Safari Adventures is proud to announce the launch of its new blog, designed to provide big-game hunters with helpful articles and updates.
In addition to hunting information, Diizche Safari Adventures will also be working closely with Dick's Taxidermy to bring you pertinent information regarding field care of trophy animals.
Blog posts, found at diizchesafari, are posted by Shawn Christopher Joyce, owner of Diizche Safari Adventures. Shawn has many years of do-it-yourself hunting experience and has recently released his first book Coastal Black Bear Hunting: Prince of Wales Island, Alaska.
The book has been well received by some familiar names in the business, including Massad Ayoob, Craig Boddington, and Mark Sullivan. To learn more or to order this book and other products from Diizche Safari Adventures, go to www.diizchesafariadventures.com.
For the latest news, events and information from Diizche Safari Adventures, follow DiizcheSafari on Twitter or Diizche-Safari-Adventures on Facebook and be sure to visit diizchesafari on Blogspot.