Heartbeat of the Women's Outdoor Media Association
By Deborah Ferns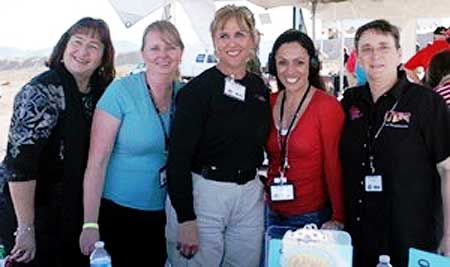 Las Vegas, NV –-(Ammoland.com)- A big thank-you to those WOMA members who helped at our booth at the recent SHOT Show held in Las Vegas for four long days. (The "backbone" of the booth was Melita Ellington, WOMA VP and Membership Team Leader, so a special THANK-YOU to her!)
The response to The WOMA was beyond good; it was phenomenal to the point that it will take us awhile to catch up with dozens and dozens of new membership applications.
The WOMA was also involved at the Bass Pro Shops Media Day at the Range, which kicked off the week of SHOT Show.
WOMA members helped at the registration desks, showing support for another WOMA member, Cathy Williams of CMG Marketing & Events, who hosts the Media Day event. Even at Media Day, Melita had a WOMA information table up and running, plus we had WOMA member Mia Anstine, who is in charge of our ad sales, also present. This was a first-time SHOT Show experience for Mia, and I'll bet she is still wondering how many miles she walked. If Mia missed you at SHOT Show and you have an interest in sponsoring an ad on The WOMA website, which has been growing by leaps and bounds, please contact her at [email protected]
If you are one of the many people who applied for membership in The WOMA while at SHOT Show, please know that Melita and her membership team are working through the applications as quickly as possible. Since we have membership in the areas of Media and Industry, as well as our new Ambassador program, it takes a while to get everything coordinated. Plus we have board meetings only once per month to vote in new members. If you have any questions about your application or need to get in the remainder of your information, please email [email protected]
An application that has "missing parts" or doesn't have payment made will be put on hold until the next board meeting in late March, so please do what you can to get all your information and payment rolling yet in February.
I am planning to be at the NRA convention in Pittsburgh April 29 through May 1. If you are also planning to attend this large annual event please let me know ([email protected]) and we'll try to coordinate a location near the convention center for a "tea and coffee" time on Saturday morning, April 30. In the meantime, if you were at SHOT Show or have an interesting story or photos of other outdoor events you have been involved with recently, please send them to Editing Team Leader Bill Bowers at [email protected]
And I'd be remiss not to include a warm welcome to new members Jaci Janes, Judy Rhodes, Natalie Foster Burkholder, Keri Butt, Andi Cooper, Beth Cowgill, Adela Jackson, Elizabeth Lanier, Karla Ledom and Kristen Monroe.
We're off to a great start in 2011, and can't wait to see who we welcome next month!
About:
WOMA is a new forum geared for people who work or volunteer to communicate with (and about) women in the outdoor fields of shooting sports and/or hunting and fishing traditions. The difference is that the focus of The WOMA is on what women are doing, and what is being done for them, in the outdoor areas of shooting sports, archery, hunting and fishing. Visit: www.TheWOMA.com