Millennium T100 Tripod Stand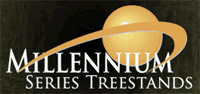 Pearl, Mississippi –-(Ammoland.com)- Deer don't always behave the way you think they should.
That's why successful hunters are flexible hunters who are willing to change their setups whenever necessary to get the job done.
If you're a runnin' and gunnin' type gun hunter, then the new Millennium T100 Tripod stand is for you.
Built with all aluminum construction and weighing only 36 pounds, the T100 is the lightest and easiest-to-transport tripod on the market.
The T100 is a product of 1,000s of hours of research and input from professional guides across the country. The result is the most portable tripod available.
The 10-foot tall stand may be light in weight, but it is strong and durable with a 300-pound capacity and powder coat finish.
Adjustable legs allow for uneven ground, and the non-sink, no-slip feet keep you safe and secure throughout the hunt. Large, easy-to-climb, sure-footed steps make getting in and out of the stand quick and simple.
Once you're sitting down, you'll enjoy a comfortable hunt thanks to Millennium's patented Comfortech seat that spins 360 degrees. The stand folds easily for transportation.
The T100 comes with a lifetime warranty.
For more information, check out www.millenniumstands.com.