Mossberg Joins Turkey THUG With Exclusive THUG Series Shotguns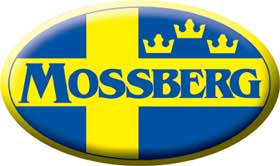 WEST POINT, MS – –-(Ammoland.com)- Mossy Oak's new television series, Turkey THUG, began the 2011 season with exclusive Turkey THUG Series shotguns from Mossberg.
"We're extremely proud to partner with Mossberg on the Turkey THUG Series shotguns. Both Mossy Oak and Mossberg have always been focused on basing our products on time-tested experience and on making products that work for hunters.

The new Turkey THUG shotguns from Mossberg are a result of that commitment and are the perfect fit for us here at Mossy Oak," said Ronnie "Cuz" Strickland.
Mossberg's Turkey THUG series includes three shotguns with Turkey THUG Series engraved on the receiver.
Select models are available in matte black or Break-Up Infinity. The guns will be used exclusively on Turkey THUG in 2011 and 2012.

Turkey THUG Series models include:
· Mossberg 500 in matte black
· Mossberg 535 in Break-Up Infinity with TRUGLO red-dot · Mossberg 535 in Break-Up Infinity
· Mossberg 835 in Break-Up Infinity
Turkey THUG airs January through June on Sundays at 9:00 p.m. EST on the Pursuit Channel. For more information on Turkey THUG, visit www.mossyoak.com or www.pursuitchannel.com. For more information on Mossberg, log on to www.mossberg.com.

Turkey THUG Series Shotguns from Mossberg are officially licensed products of Mossy Oak/Haas Outdoors Inc. Turkey THUG® and Break-Up Infinity® are trademarks of Haas Outdoors Inc. Headquartered in West Point, Miss., Haas Outdoors Inc. was established in 1986 and is home of Mossy Oak (www.mossyoak.com). Mossy Oak specializes in developing and marketing modern camouflage designs for hunters and outdoorsmen. Mossy Oak patterns can be found on a multitude of products worldwide. Haas Outdoors Inc. is the outdoor industry leader in modern camouflage design, international licensing and marketing. Haas Outdoors Inc. markets its services and products under widely recognized brands including: Mossy Oak, BioLogic, Mossy Oak Productions, MOOSE Media, Nativ Nurseries and Mossy Oak Properties.