Kentucky Concealed Carry Coalition – New Year New Name New Logo
Because the right to protect yourself shouldn't stop at your front door.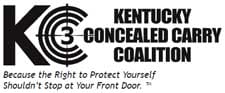 Frankfort, Ky –-(Ammoland.com)- KC3 is moving into 2011 with changes at every level of our organization.
The board of directors has voted to change the name subtly but significantly to the Kentucky Concealed Carry Coalition.
We wanted to keep the abbreviation, KC3, that has identified us so distinctly for so long while signifying that as the political climate and concealed carry laws here in Kentucky have changed, so has our mission and our approach to the problems still facing gun owners and permit holders in the Commonwealth.
We've accomplished our primary goal, which was to get a bill passed that would legalize the carry of concealed deadly weapons for personal defense in Kentucky. Now we have to tear down the remaining barriers to the exercise of that right, and to normalize the concept of the armed, self-reliant citizen among the whole of the citizenry.
Too many people still don't understand how the armed citizen is not a threat to public safety but in reality is a boon to the public as a whole. We're still fighting against stereotypes, and against elected officials who have taken it upon themselves to deny and restrict our rights.
We're still struggling with bureaucrats and officials who abuse their positions and their powers by enacting foolish bans against us, and who misrepresent our actions, our motives and our history.
So we're ready to move into the new phase of our mission. We intend to move more aggressively against those persons and groups who are set against us. We're going to be taking strong legal action against those government entities that put up illegal signs banning CCDW, and against businesses that post anti-gun signs on their doors. We're planning to become a more pro-active organization with ties to national groups such as Gun Owners of America, NRA and the Second Amendment Foundation. We're going to try to utilize the full power of the media and the internet to get our message out to more people and to help you, our members, to expand your impact in the public arena.
We intend to make KC3 the group that politicians look to for guidance, and for what the people expect of them as they consider new legislation. We hope to build new alliances with an emerging generation of elected officials who understand the importance of our freedoms, and who are tired of the old way of doing political deals, a tired and outdated system that has crippled our efforts to protect our rights. We will no longer be content just to accept the crumbs that some politicos see fit to throw to us, so we will be resurrecting the KC3 political action committee so that we can endorse candidates and have a larger voice in the selection process and the elections.
We intend to work to enact legislation that will provide criminal penalties for public officials who willfully put in place illegal policies, so that they pay a price for their misdeeds and can't simply laugh it off as they do now.
We hope that you like the new logo and we hope that we can count on your continuing support for our work on your behalf. Together we've accomplished many things, but the future will require renewed dedication to our cause on the part of each and every one of us.
Our new name and logo will be the symbols of our enduring commitment to protecting and expanding our freedoms, because "the right to protect yourself shouldn't stop at your front door!"
About Kentucky Concealed Carry Coalition:
Since 1994, KC3 has led the struggle to secure your right to carry a legally concealed weapon
for your defense and the safety of your loved ones. Visit: www.kc3blog.blogspot.com