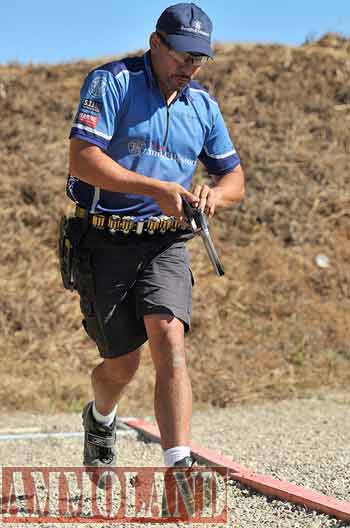 Smith & Wesson's Bagakis Gets 5th Straight Limited Win at ICORE Southwest Regional
Los Osos, CA -(Ammoland.com)- For the fifth year in a row, Team Smith & Wesson shooter John Bagakis of Livermore, Calif. won the Limited division title at the International Confederation of Revolver Enthusiasts' (ICORE) 14th Annual Southwest Regional Revolver Championship.
Bagakis won six of the eight stages in the match and led the field of 53 shooters from start to finish and placed second overall in the match and take the title with a final time of 145.73 seconds, outpacing his nearest competitor by just over 27 seconds.
"John is a powerhouse when if comes to Limited revolver competition. Not only has he won here at the ICORE Southwest Regional for the fifth year in a row, but he's also the three-time and reigning ICORE Limited World Champion," said Ron Joslin of ICORE.
Second place went to Tom Hubbard of Paso Robles, Calif. who won one stage and shared a stage win on a second before finishing with a final 172.76. Nathan Carmichael of Lovelock, Nev. came in third posting a final time of 185.35 seconds.
Rounding out the top five were Seiichi Ishikawa of Montebello, Calif. in fourth with 185.86 and Team Apex shooter Scott Folk of Los Osos, Calif. in fifth with 188.82.
Elsewhere in Limited division competition, Team Apex's Lisa Farrell of Los Osos, Calif., the seven-time ICORE Women's Limited World Champion, claimed the Women's Limited title with a final time of 231.87 seconds. Among the seniors, Rich Koester of La Grange, Calif. won the Senior Limited title in 190.60 while Clete Knowlton of Santa Ynez, Calif. took the Super Senior Limited title in 222.16.
The match, which was held this past weekend on the Hogue Action Pistol Range at the San Luis Obispo Sportsmen's Association in San Luis Obispo, Calif., drew 110 top wheelgunners from across California and the region. The match was the first of seven events in the ICORE Regional Series presented by Smith and Wesson.
The next major match on the ICORE competition schedule is the 20th Annual Smith & Wesson International Revolver Championship which will take place June 2-5, also on the Hogue Action Pistol Range in San Luis Obispo.
For more information on ICORE, the 2011 ICORE Regional Series presented by Smith & Wesson or the 20th Annual Smith & Wesson International Revolver Championship, visit www.ICORE.org