Laura Torres-Reyes Of Team ITI Becomes Triple Crown Queen At Inaugural IDPA Triple Crown Shootout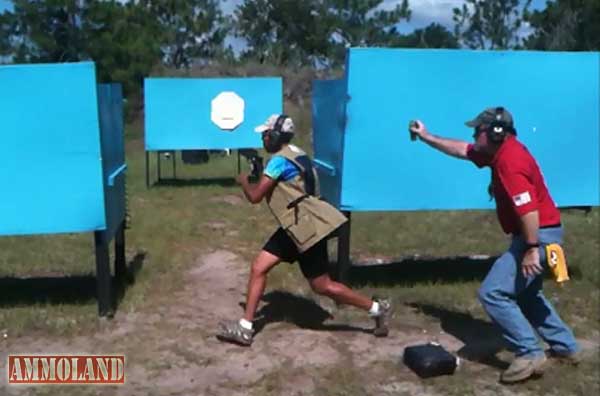 SHACKLESFORD, VA –-(Ammoland.com)- Team International Training, Inc. (ITI) member Laura Torres-Reyes brought home several titles from this past weekend's inaugural IDPA Triple Crown, held at the Universal Shooting Academy in Frostproof, FL July 30th, 2011.
Torres-Reyes won High Lady, High Military and High Industry. Her score was 355.56, finishing 14th out of 81 competitors.
"It was very exciting to participate in this inaugural event of the Triple Crown. The key to success at this match was to persevere despite the 120 degrees heat index," commented Torres-Reyes.

"From my training at ITI, I knew the importance of proper hydration in maintaining peak performance. My heartfelt thanks to the tireless dedication of the Safety Officers, and excellent stage designs of the Match Director, in making the match such an enjoyable experience."
Torres-Reyes' next competition will be at the 2011 Western Pennsylvania Section Championship, held at the Hollidaysburg Sportsmens Club in Hollidaysburg, PA August 4th – 5th, 2011.
Follow Team ITI on Facebook: www.facebook.com/TeamITI
Watch videos of ITI on YouTube: www.youtube.com/wwwitiwsicom
About G4S International Training, Inc.
G4S International Training Incorporated (ITI) is the training division for G4S. Founded in 1989; ITI is committed to providing benchmark security training programs emphasizing professionalism, quality, customer service, and a fair price. ITI conducts both mobile and fixed site training in security assistance and security service programs for the U.S. Government, U.S. military, corporate America, and now private citizens. For more information on ITI or any of their courses, log on to www.itiwsi.com.
About Laura Torres-Reyes
Laura Torres-Reyes first started her shooting career five years ago when she decided to practice to qualify for a deployment as a Medical Commander for the Air Force. She is currently serving as an Active Duty Air Force Colonel (0-6). Torres-Reyes, a Bronze Star Medal recipient, specializes in Occupational Medicine and practices as a Physician at Fort Detrick, Maryland. She currently competes in IDPA as an SSP EX and has earned over thirty High Lady and High Military State Championship titles in her past four years of competing in IDPA. Prior to being on Team ITI, Torres-Reyes competed as a member of Team Smith & Wesson for two years.