By Bill Dunn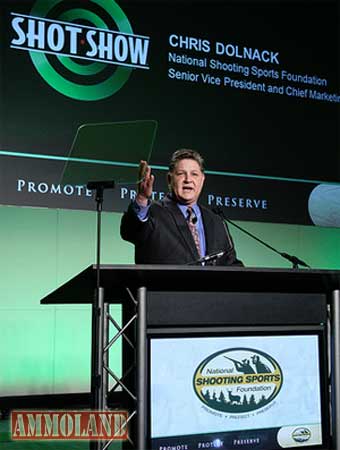 NEWTOWN, Conn –-(Ammoland.com)- At last week's State of the Industry Dinner sponsored by Outdoor Channel, Chris Dolnack, NSSF senior vice president and chief marketing officer, opened the evening with these comments:
We're thrilled to have you with us here tonight as the industry kicks off a brand new year with exciting new product launches and eager new exhibitors.

The 2012 SHOT Show is the launching pad of hopes and dreams for more than 100 first-time exhibitors who were previously wait listed. These upstarts are following the trail blazed by industry icons that came before them.

Companies like GLOCK that started out small, exhibiting at their first SHOT Show in 1987 with an innovative new product that changed the way we looked at pistol design and created a whole new product category.

Companies like Realtree, which was launched by Bill Jordan at the SHOT Show with a few pieces of clothing, a 20-by-20-foot booth which was only half paid for when the show opened, and a whole lot of moxie.

On the opening morning of the show, the Bass Pro Shops buyer walked into the Realtree booth. Ten minutes later, the Oshman's buyer walked into the booth. After another ten minutes, here came the Wal-Mart buyer. And by the end of that SHOT Show all three had placed orders and Jordan was able to quit ducking show manager Jerry van Dijk and pay the balance on his booth.

Because, you see, the SHOT Show isn't just about transactional commerce. The SHOT Show is about face-to-face meetings between people who are passionate about hunting and shooting and who are committed to providing their respective customers with products that will enhance their hunting or shooting experience.

Survey after survey reveals that our customers come to the SHOT Show to gather additional information on new products that will help them in making their buying decisions. That's because the SHOT Show is the one place you can go to see everyone and everything you need to gain a competitive edge.

The SHOT Show is the largest gathering of outdoor media anywhere with over 2,100 writers, broadcasters and bloggers here. The SHOT Show is also the largest cutlery show and the largest law enforcement show anywhere.

By re-purposing the SHOT Show floor and opening up exhibit space for those companies that represent our core hunting, shooting and tactical business we've infused the SHOT Show with new product offerings that will offer retailers new opportunities when these 100 wait-listed companies begin their journey to becoming the next generation of iconic industry brands.

Thanks for being here tonight and for supporting NSSF.
---
About NSSF:
The National Shooting Sports Foundation is the trade association for the firearms industry. Its mission is to promote, protect and preserve hunting and the shooting sports. Formed in 1961, NSSF has a membership of more than 6,000 manufacturers, distributors, firearms retailers, shooting ranges, sportsmen's organizations and publishers. For more information, log on to www.nssf.org.