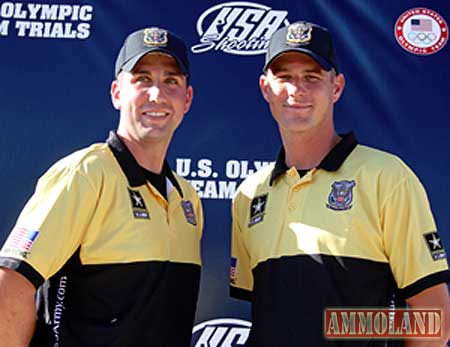 COLORADO SPRINGS, Colo. –-(Ammoland.com)- The 2012 U.S. Olympic Team gained the experience of veteran talent Glenn Eller (USAMU/Katy, Texas), who earned his way onto his fourth Olympic Team Saturday outlasting the field in Men's Double Trap.
Eller topped U.S. Army and Beijing Olympic teammate Jeff Holguin (USAMU/Yorba Linda, Calif.) to receive his Olympic nomination at the Tucson Trap & Skeet Club (TTSC).
The reigning Olympic gold medalist in the event, Eller will team with 2010 World Champion and U.S. Army teammate Josh Richmond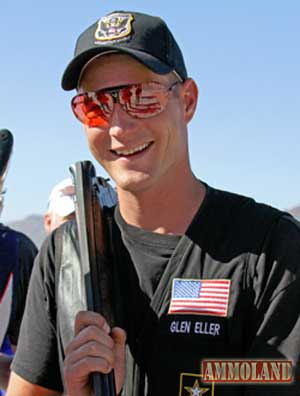 (USAMU/Hillsgrove, Pa.) to form one of the top Double Trap pairs shooting in London. Richmond didn't compete this week as he had already qualified for the 2012 U.S. Olympic Team after his outstanding shooting the past two years.
With a finals round 49/50, Eller out-distanced Holguin by six targets with an overall score of 609 after 650 total targets between this match and a 2011 Fall Selection Match that was included in the scores. Billy Crawford (Johnstown, Ohio) finished third overall with a 601. Derek Haldeman (USAMU/Sunbury, Ohio), 584, Christian Wilkoski (Centerburg, Ohio), 543and Kelcey DePatis (Donovan, Ill.), 538, round out the top six finalists.
"I feel great about it," said Eller afterwards. "Not many people get to go to one Olympics let alone four, so it's an absolute honor. It's getting harder the older I get."
Eller's struggles to get back to London are well documented. Losing that competitive fire after his gold medal, Eller's problems were compounded last year when his competition shotgun was lost en route to a March 2011 International Shooting Sports Federation World Cup event in Chile and has yet to turn up. He switched to a new gun, manufactured by Beretta, but even then the road back almost didn't happen given that until March the U.S. hadn't secured a second Olympic quota spot in Eller's event.
"After the gold medal there's nowhere to go but down so I fell, stumbled and hung around down there for awhile and slowly eased my way back, but that's what it's all about though," he said. "Now, I have the opportunity to go back and win another one."
Reigning Olympic champion Vincent Hancock (USAMU/Eatonton, Ga.) continues to lead in Men's Skeet with one day remaining. Hancock shot 99/100 for 443 overall targets on a picturesque day. With milder temperatures and calm wind, Jon Michael McGrath (Tulsa, Okla.) jumped ahead in today's 100 targets hitting every last bird to land in second place. McGrath currently sits with 434 targets, but with just a one-target cushion between himself and Mark Weeks (WCAP/Clinton Township, Mich.), McGrath needs to keep pace for the second Olympic berth. Weeks shot 97 targets on the day and has 433 targets overall. BJ Blanchard (Vidor, Texas) and Frank Thompson (Alliance, Neb.) are not making things easy though. Tied at 431 targets, Blanchard and Thompson are putting the pressure on the McGrath and Weeks. Also making plenty of noise is Dustin Perry (Lovelady, Texas), a freshman at Lindenwood University, who broke through the rankings to earn a spot on the number one squad yesterday. Perry shot 98 targets-dropping two in his final round-for 430 targets. With only four targets separating the remaining five in the top squad, tomorrow's 50 targets (and final) will require perfection.
Coming in today, 2008 Olympic bronze medalist Corey Cogdell (Eagle River, Alaska) had a two-target advantage over Kayle Browning (Wooster, Ark.) in Women's Trap, but after shooting 94/100 Saturday, the Alaska native has opened up a five-point lead over Browning. Cogdell entered the weekend six targets back in her attempt to make her second straight Olympic Team. With 50 targets left and the final still remaining for the event's lone Olympic spot, Cogdell is in the driver's seat with the overall standings for the top six competitors in Women's Trap looking like this: Cogdell 413, Browning 408, Kelsey Zauhar (Lakevlle, Minn.) 404, Miranda Wilder (Diana, Texas) 401, Rachael Heiden (Clinton, Mich.) 400, Caitlin Barney Weinheimer (Kerrville, Texas) 400.
Zauhar, Wilder, Heiden and Weinheimer all shot 89/100 targets. Weinheimer, leading the event coming into Tucson, rebounded from a disappointing 77 to open, hitting 12 additional targets Saturday while Heiden, after shooting a match-high 94 targets Friday to jump into the top squad, cooled down to an 89 today.
The Trials feature action in all of shotgun's respective disciplines including Trap (M/W), Skeet (M/W) and Men's Double Trap. However, Olympic spots will only be available in women's trap (1), men's skeet (2) and men's double trap (1).
In Men's Trap, Jacob Turner (Richland, Wash.) still holds a five-target lead with a total 429, while Collin Wietfeldt (Hemlock, Mich.), 424, is in second. Three-time Olympian Lance Bade (Vancouver, Wash.) jumped into the top three scoring 94/100 Saturday. After struggling yesterday in high winds, USA Shooting Junior Team member Dustin Anderson (Woodstock, Ga.) missed just three targets today to climb back into a tie with Bade for third position. John Mullins (Port Orchard, Wash.) rounds out the top five.
In Women's Skeet, Morgan Craft (Muncy Valley, Pa.) has opened up a four-point lead on the field after hitting 97/100 targets. Caitlin Connor (Winnfield, La.) had a day-high 98/100 to move into second place overall while Brandy Drozd (Bryan, Texas) fell back into third after today's 91. Alexander Chiang (Redwood City, Calif.) and Jaiden Grinnell (Port Angeles, Wash.) are tied for fourth place.
2012 U.S. Olympic Team Trials for Shotgun Competition Schedule:
Sunday, May 20 – Trap & Skeet (50 Targets + FINAL)
The TTSC has served southern Arizona's shooting sportsman since its original incorporation in 1948. The club has been in its present location, west of historic Tucson, since early 1976 when construction on the 80-acre site was completed. In preparation for the 2012 World Cup and its designation as a USA Shooting Certified Training Center, the club added 300 acres, five international bunker traps and seven new skeet fields.
The U.S. Olympic Team Trials for all sports is a collaborative, three-way partnership between the U.S. Olympic Committee, the national governing bodies, and the local organizing committees. All athletes nominated to the 2012 U.S. Olympic Team must be approved by the U.S. Olympic Committee.
---
About USA Shooting

USA Shooting, a 501c3 non-profit corporation, was chartered by the United States Olympic Committee as the National Governing Body for the sport of shooting in April 1995. USA Shooting's mission is to prepare American athletes to win Olympic medals, promote the shooting sports throughout the U.S. and govern the conduct of international shooting in the country. Check us out on the web at www.usashooting.org.