By Alan Murdock, AmmoLand Youtube Reporter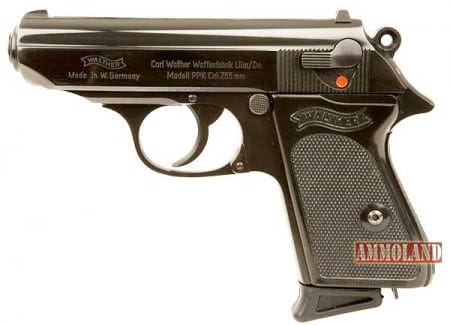 USA –-(Ammoland.com)-Recently I purchased a Walther PPK, the blued steel model manufactured in the USA by Smith & Wesson.
I bought the gun because I recently had a concealed firearms student who couldn't cycle a 9mm pistol.
I wanted a pistol that had a barrel length greater than three inches, but that had a lighter spring than the 9mm, making it easier to cycle.
You might say, "A student like that should get a revolver. They'll be able to carry .38 +p rounds with a greater stopping power than the .380."
While that is true, the revolver adds bulk and increases time on reloads. For this particular student, I believe the .380 will become a better option, but I believe that the latest round of ultra micro guns like the Diamondback .380 or Ruger LCP are too small to use effectively as a first carry gun due to sight radius and grip size.
Because of its blowback design, many people find the Walther PPK to be an easy shooter and very accurate. The first three rounds out of my gun were in a 1/2 inch group at 15 yards, offhand. That's pretty sweet for a double/single-action pistol.
The Walther is a classic gun with great handling and beautiful lines. I like the gun primarily as a small backup gun that still fits my hand nicely, and as a great gun to teach new shooters or for shooters who can't cycle larger pistols.
The following video by TheYankeeMarshal highlights some of the strengths of this quality but under recognized pistol:
---
About Alan Murdock

Alan Murdock is a lifelong shooting enthusiast. From youth he has shot firearms and archery. Today he is a certified NRA basic pistol instructor and Utah Concealed Firearms instructor. His blog on shooting and personal defense can be found at www.alanmurdock.wordpress.com