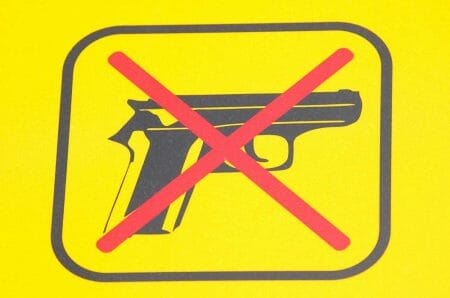 Charlotte, NC –-(Ammoland.com)- With the rise of Right-to-Carry laws in the United States over the past 25 years, gun owners often face a daily headache of understanding where firearms may and may not be legally carried.
State laws, in particular, create a hodgepodge of "gun-free" zones, depending on which hysterical anti-gun talking points happened to get traction in a particular legislature.
Fortunately, the courts sometimes help clarify these issues, and that's exactly what has happened in the case of People v. Watkins, handed down June 5 by the Michigan Court of Appeals.
In 2010, Right-to-Carry permit holder Roger Watkins was arrested for carrying a pistol at a home and garden show held in Michigan State University's "Pavilion for Agriculture and Livestock Education." The conviction, under a state university regulation that forbids carrying a firearm on the campus in violation of state law, was based on the prosecutor's argument that the pavilion was a "sports arena," and therefore off-limits to those carrying handguns under Michigan law.
Watkins appealed to a county circuit court, which reversed his conviction on the grounds that the university had failed to give any notice that might warn permit holders that the pavilion was a "sports arena."
The state then appealed to the Court of Appeals, Michigan's second-highest court. Unfortunately for the state, the Court of Appeals agreed the conviction should be overturned, but for an even stronger reason. As the Court of Appeals saw it, the only "arena" in the pavilion was a "show arena" primarily used for livestock exhibitions.
Therefore, the prosecution had failed to prove that the building was a "sports arena" or that Mr. Watkins had broken any law.
NRA-ILA attorneys provided extensive research support to Mr. Watkins' lawyer from the earliest stages of the case, and we are pleased that the court's decision may provide some needed guidance to Michigan prosecutors and permit holders.
---
About NRA-ILA

Established in 1975, the Institute for Legislative Action (ILA) is the "lobbying" arm of the National Rifle Association of America. ILA is responsible for preserving the right of all law-abiding individuals in the legislative, political, and legal arenas, to purchase, possess and use firearms for legitimate purposes as guaranteed by the Second Amendment to the U.S. Constitution. Visit: www.nra.org