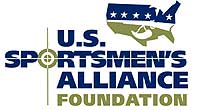 Columbus, OH –-(Ammoland.com)- The recent, highly successful, U.S. Sportsmen's Alliance "Save Our Heritage" Rally, sponsored by Ithaca Gun Company, is now history.
Yet, there are numerous facets of that event that are worth noting.
First, was a presentation by Ithaca of an Ohio-made firearm—an elaborately engraved 75th anniversary edition Ithaca Model 37 shotgun—to Republican Vice-President Nominee, Congressman Paul Ryan. The Congressman, the event's keynote speaker, then signed the firearm and placed it up for auction to support the USSA. This special shotgun also has the Romney-Ryan campaign logo laser engraved onto the stock. Now it is truly a one-of-a-kind firearm thanks to the creative folks at Ithaca Gun Company (www.ithacagun.com). To see a great image of Ithaca gun company owner David Dlubak presenting the firearm, visit the company's website. Ithaca also showed support of hunting by sponsoring the USSA Rally.
Another key fact about the recent Rally was that many attendees hunted and bagged bargains on great hunting, fishing and shooting adventures.
Topping this list were several hunts, such as the one with Russell Pond Camps (www.russellpondcamps.com) for a bear-on-bait hunt in Maine. Another hunter will pursue black bears with Thomas Outfitters (www.thomasoutfitters.com) in Maine. A hunt with a true southern flare for deer, hogs and bobcats was offered by Buffalo Creek Guide Service (www.buffalocreekguideservice.com) in North Carolina.
If you wanted to leave the United States for hunting in another country, there were adventures for moose and an African safari. The moose hunt was offered with Parsons Pond Outfitter (www.huntingnewfoundland.com) and will take place in Newfoundland. The safari is in South Africa where two—or possibly four—hunters can pursue blesbok and several species of springbok. This adventure will take place with Richard Holmes Safaris (https://www.capeafricanhunting.co.za).
Anglers were definitely not forgotten during the Rally. There was an option to haul in halibut with Island Pointe Lodge (https://islandpointlodge.com) in Alaska. In the Lower 48, on Lake Erie, Matta Charter Fishing (www.mattacharterfishing.com) will be taking an angler on a fishing expedition.  Over in Oswego, New York, another angler and their friends will be taking a chartered fishing trip compliment of Kris Gehrig with K&G Lodge (www.kglodge.com). Plus there were more adventures.
Bugling elk will be in the sights of another hunter at Keyah Grande Ranch (www.keyahgrande.com) in Colorado's San Juan Mountains. Three pheasant hunters will head afield with Elkhorn Lake Hunt Club (www.elkhornlakehuntclub.com) near Bucyrus, Ohio.
Finally, a shooter's dream package will be enjoyed by two people during their visit to Nemacolin Woodlands Resort (www.nemacolin.com) in Pennsylvania.
As you can tell, numerous USSA supporters and members will be busy in the months ahead.  Thanks to all who made this night a success.
About:The U.S. Sportsmen's Alliance is a national association of sportsmen and sportsmen's organizations that protects the rights of hunters, anglers and trappers in the courts, legislatures, at the ballot, in Congress and through public education programs. Visit www.ussportsmen.org.