Visit Booth #8107 to see parts produced to MIL-STD dimensionally tight tolerances.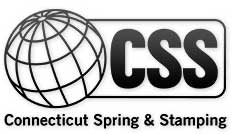 Farmington, CT –-(Ammoland.com)- Connecticut Spring & Stamping (CSS), a manufacturer of precision parts for the firearms, defense, aerospace and medical industries worldwide, announces that it will showcase its custom firearm spring and stamping capabilities, as well as its extensive parts store for the AR15/M16 rifle, at the 2013 Shooting, Hunting, Outdoor Trade Show (SHOT Show) and Conference, which takes place from January 15-18, 2013 at the Sands Expo & Convention Center in Las Vegas, Nevada. Visit CSS at booth #8107.
CSS manufactures and stocks springs and stampings for the AR15/M16 rifle platform, all produced to government MIL-STD dimensionally tight tolerances. On display will be a sampling of the large inventory, which includes springs for the upper assembly and lower receiver, a large number of stampings, the receiver end plate, charging handle latch, ejection port cover assembly, disconnector, gas bolt rings, and the handguard cap. Because the parts are manufactured in large volumes, CSS is able to maintain a complete inventory of parts, and can quickly ship both small and large quantities. CSS is ITAR-certified and holds a federal firearms license (FFL).
Also on display will be CSS' capabilities for custom manufacturing precision springs and stampings for handguns and rifles, for which the company has built an excellent reputation dating back to 1939. CSS produces custom parts for a significant number of firearms industry OEMs, including slide stops, trigger bars, magazine springs and recoil springs made of rocket wire, flat wire, and stranded wire.
CSS also produces magazines for a variety of firearm manufacturers. CSS' hands-on design team works closely with customer to design parts that are within a tight tolerance, and yet very manufacturable and consistent in the long run.
About Connecticut Spring & Stamping
Headquartered in Farmington, CT, Connecticut Spring & Stamping (CSS) is a manufacturer of all varieties of close tolerance precision parts for the medical, electronics, aerospace, firearms and defense industries worldwide. They provide springs, metal stampings, machined stampings & sub-assemblies for OEM's worldwide. In business since 1939, CSS prides itself in design and engineering involvement that starts with product development, and moves through prototyping, manufacturing, and assembly to warehousing and point of use. Headquartered in Farmington, Connecticut, CSS has warehousing facilities in Puerto Rico, Mexico, China, Singapore, and Dongguan that allow our customers to build products with just in time (JIT) inventory.
For further information, please visit www.ctspring.com or call 860. 677.1341