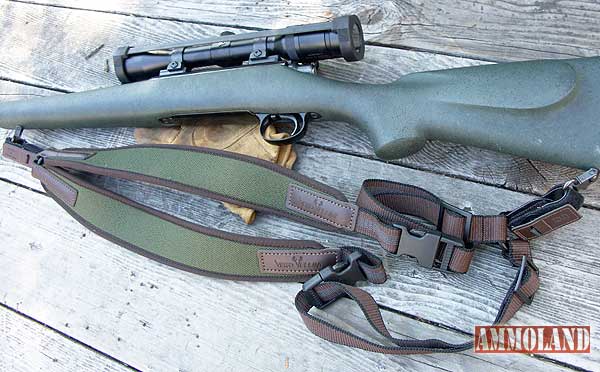 MOORESTOWN, NJ –-(Ammoland.com)- Still looking for that last-minute Christmas gift for the hard-to-buy-for outdoor enthusiast in your life?
Look no further than these three handcrafted slings from Vero Vellini, each of which would make the perfect gift.
The first is Vero Vellini's new Contour binocular and camera sling. Available in either a slip-proof neoprene version or a lavishly padded Napa-leather version, the Contour was designed to effortlessly distribute the weight of a binocular or camera to reduce tension and fatigue on even the longest and most grueling hikes, while keeping your treasured optic at the ready. The neoprene contour is priced at $44.99, and the two-tone Napa-leather Contour is $99.99.
The second is the Black Tactical Sling. This two-point sling was designed to fit a wide range of firearms, and with its closed-cell Air Cushion neoprene construction, the Black Tactical Sling provides flexibility and shock-dampening comfort. The non-slip rubberized backing surface ensures your rifle or shotgun will stay put until you need to use it. The Black Tactical Sling has a suggested retail value of $32.99.
The last is the ingenious Double Backpack Sling. Constructed of the same Air Cushion neoprene material as the Black Tactical Sling, the Double Backpack Sling is split so that you can wear your rifle or shotgun on your back similar to a backpack for the ultimate in comfort and firearm retention. The design of the Backpack Double Sling also provides a solid, expedient off-hand shooting platform, deriving its support from one arm or both. By looping the sling behind the elbows to firmly hold the rifle stock, a secure rest can be made. This is ideal when quick off-hand shots are necessary or when no other support is available. The Backpack Double Sling retails for $89.99.
These unique slings will be greatly appreciated every time your outdoor enthusiast heads to the field carrying a firearm, a binocular or both. By giving a Vero Vellini sling this Christmas, you are simply giving the world's most comfortable gun sling. Who could ask for more?
Vero Vellini slings are available at high-end shooting retailers, nationwide, and they can be purchased conveniently online at www.gunslingsdirect.com. This year, give the gift of comfort from Vero Vellini.
Vero Vellini has been the acknowledged leader in comfortable, handcrafted gun slings. For nearly two decades, the company has been crafting these beautifully detailed and highly durable slings in Germany. Vero Vellini created the Air Cushion concept, which sandwiches neoprene and other natural and synthetic material to create an almost weightless feeling when carrying a firearm. The company also boasts the most slip-proof sling available from the use of a unique, highly durable rubber backing. Vero Vellini also manufactures fast-access cartridge cases and straps for binoculars and cameras. For more information on Vero Vellini, contact: Pioneer Research, 97 Foster Road, Moorestown, NJ 08057; call 800-257-7742; or visit http://www.pioneer-research.com/verovellini.asp.