Byline: Andy Lightbody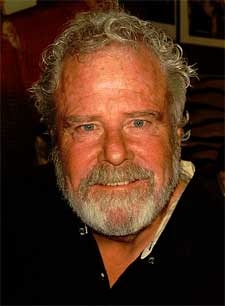 Grand Junction, Co. –-(Ammoland.com)- The Mayan Calendar and its end of the world prediction in December 2012 proved to be false.
We are all here and stuck, for at least the beginning of 2013 and beyond.
And now that we are all here, we face tornados, floods, earthquakes, power outages, blizzards…… and just about all of Mother Nature's elements that we have faced for years past. And in truth? It really isn't much new.
What is NEW is the idea of being more self reliant, and being able to survive, when a natural or man-made disaster hits you. New tools that are designed specifically for you and your family to be able to cope and survive independent of the outside world and community resources.
A relatively small box…. now available from the folks at Camp Chef, brandished as a 72-hour Emergency Kit, enough for a family of four. A kit that includes the essentials, such as a stove, pot, lid/skillet, and more. In addition, it also includes a host of freeze-dried foods. All easy to prepare, just-add-water and simply follow the included instructions.
Having personally gone through the all equipment provided, I find the Camp Chef 72-Hour Emergency Kit includes the following hardware:
Camp Chef 1- burner stove—butane (8oz, purchased separately).

3 quart pot

Lid and skillet

Multi- purpose cup

4 gallon Grab and Go bucket—food supply

All purpose—carry bag.
In addition, the Camp Chef 72-hour Emergency Kit offers a host of Camp Chef Freeze Dried Foods, designed for a family of four people, for three days. These are actually foods that are easily hydrated to bring back to life, by simply adding water and heat.
In the old days, freeze-dried foods for camping or survival were so bad, many of us selected to just go hungry, eat the bark off of trees or chew on the soles of our boots.
Today, all of that has changed. And the offerings that are included in the Camp Chef 72-Hour Emergency Kit, are not only easy to prepare, but are great tasting as well. Just add salt, pepper or any of you favorite spices to bring them up to very tasty levels. Meals, when you face a disaster, or when you have to bug-out, that include Savory Beef with Mushrooms; Creamy Chicken with Vegetables and Pasta; Cheesy Lasagna, and much more.
The Kit tips the scales at just around 12 pounds. Obviously, this is not a kit that is going to go into a backpack or bug-out bag, but will fit nicely into the back end or your truck or the trunk of a car if you are planning on going mobile. This includes the stove, pots and carry bag (7 pounds), and a 5-pound bucket of freeze-dried foods. The food bucket contains 15 two-serving pouches of meals. The bucket has a sealable lid, so if you use some of the meals, you simply head to the sporting goods store and you can recharge and replace your favorites.
All the meals in the Kit are rated with a seven year shelf life if left sealed in their original package.
Each meal comes with complete and very easy to follow instructions on how much water to add. Once the water is boiling, you can simply add this to the food pouch, seal it up for a few minutes and actually eat directly from the bag and not have to make the meal and a mess in the pot. Just keep in mind that everyone's "spice tasting" levels are different, and it's recommended that you put a bag with personal condiments in the bucket with the freeze-dried foods— salt, pepper, hot sauce and additional sugar and cinnamon.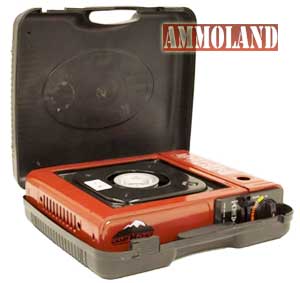 The Camp Chef Mountain Series Butane 1 Burner Stove is a self-contained, matchless ignition single burner model that is rated to 8,000 BTUs. In plainer words, it's not like the afterburner of a jet fighter, but it's sufficient with a little patience to bring the water pot to a boil. The pot holds three quarts of liquid (48 ounces), but for each of the meals you only are going to need 16 ounces. So if you need to, you can boil enough water in the pot to actually prepare three meals all at the same time. The pot also features a lid, which not only will speed up the boiling process, but it can also be used as a skillet for cooking other foods.
Just remember that the fuel canisters are not included with the kit and these will need to be purchased separately. And it's not the 1-pound propane canisters that you might be used to using with your camp lanterns or other stoves or heaters. Instead, it is an 8-ounce propane can that somewhat resembles a can of spray paint and is inserted and then attached into the stove. Depending on your use and personal needs, it's suggested that you purchase a minimum of 4-6 butane canisters and have them on hand.
While the 72-Hour Emergency Kit certainly is not everything you and your family needs in terms of disaster preparation, it is exactly the type of kit that is well packaged, durable and takes the guess work out of the food prep side of the equation.
For further information about the Kit, simply visit the Camp Chef website at www.campchef.com.
About:
Andy Lightbody is a TV/Video producer and host, as well as an outdoor writer/photographer. Lightbody is the former Managing Editor for Western Outdoors Magazine; Senior Editor at Petersen's Hunting Magazine and Editor of the Guns & Ammo Book Division.
He remains an avid shooter, hunter and angler, as well as a regular contributor to the Sportsman's Warehouse publication—Sportsman's News Magazine. Visit Rocky Mountain Television/Productions : www.rmtv.net