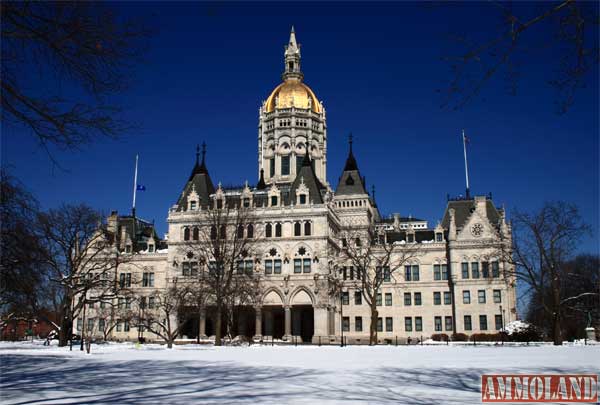 Connecticut –-(Ammoland.com)- In response to the tragic events that took place in Sandy Hook last December, Connecticut legislative leaders from both parties came together to form the Bipartisan Task Force on Gun Violence Prevention and Children's Safety.
The 50 member super-committee was split into three separate working groups, each tasked with developing recommendations aimed at reducing gun violence, enhancing school safety and increasing access to mental health care in Connecticut.
After a number of public forums, informative discussions with professionals and hearing from numerous advocacy groups, the task force has come forth with the following draconian gun control proposals  guaranteeing that Connecticut will soon join New York in gutting the Second Amendment for state citizens.
Recommended Law Changes include:
Universal Background Checks.
Significantly Expanding The Connecticut Assault Weapons Ban.
Immediately bans the sale or purchase of large capacity magazines, and imposes extremely stringent restrictions on the use of those currently possessed.

Immediate ban on sale, purchase or importation of large capacity magazines.
Large Capacity Magazines that are currently possessed must be registered with DESPP by January 1, 2014 to remain legal,and even when registered will be subject to extremely strict usage limitations.
Requires new state issued eligibility certificates for the purchase of any rifle, shotgun or ammunition.

Expands the scope of Connecticut's firearms safe storage law.
The bill establishes the offense of illegal possession of ammunition, so that an individual who is ineligible to possess a firearm will also now be ineligible to possess any ammunition.
The bill requires applicants for a temporary permit to carry a pistol or revolver to apply only in their town of residence (as opposed to also where they work), and further limits such applications to only one per twelvemonths.
The bill establishes a new age limit for the purchase of centerfire semi-automatic rifles (other than bannedassault weapons). Under the bill an individual will have to be at least 21 to purchase such a rifle, as opposedto the current federal age limit of 18.
The bill bans the sale of armor piercing ammunition, and makes it a class D felony to carry a firearm loadedwith any such ammunition.
The bill amends the Earned Risk Reduction Program to ensure that violent felons, including those whocommitted crimes with firearms, serve at least eighty-five percent of their original sentences.
Connecticut Bipartisan Task Force of Gun Violence Prevention and Children's Safety Summary of Gun Violence…