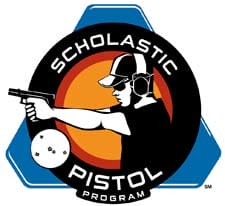 Maumee, OH –-(Ammoland.com)- The Pine Tree Council (Portland, ME), Boy Scouts of America, hosted the Scholastic Shooting Sports Experience Saturday, April 20, 2013.
This special event was to introduce over 50 leaders from the council to the Scholastic Pistol Program (SPP) and was held at the council's Camp William Hinds. The Pine Tree Council used the day to help those attending to start SPP teams and to prepare them for their first SPP event on June 15th.  On hand to work the event were Tom Yost from SPP founding partner, Smith & Wesson, Uel Gardner, Weaponcraft LLC, Mike Michaels, Venture Crew 556 (New Hampshire) and SPP staffers, Tammy Mowry and Scott Moore.
"We recognize SPP as a great way to recruit and retain new Venturing Scouts," said Eric Tarbox, Scout Executive, Pine Tree Council. "This also allows us to take the lead in teaching safe firearms education to the young adults in our area."
The June 15th SPP event, will be the kickoff of a scheduled 3rd Saturday of each month SPP practice days. Camp Hinds staffers and volunteers created a new pistol berm for SPP and are in the process of expanding its ranges to handle multi-discipline shooting sports.
SPP is supported, in part, by founding partners GLOCK, Smith & Wesson and Action Target. Additional partners include Atlanta Arms & Ammunition, PACT Timers, Tactical Solutions and Winchester Ammunition among others.
For additional information on the new SPP program or to register your team, contact Director Scott Moore via e-mail at [email protected].
The Scholastic Shooting Sports Foundation (SSSF) is responsible for all aspects of the Scholastic Clay Target Program (SCTP) and Scholastic Pistol Program (SPP) across the United States, including participant registration, coaches, state coordinators, state and national championships, promotion, communications, websites, public relations and growth strategies The Scholastic Shooting Sports Foundation exists to raise funding and other resources for Youth Development Programs in the shooting sports industry.
SCTP and SPP are youth development programs, originally developed by the National Shooting Sports Foundation (NSSF), where adult coaches and volunteers model sportsmanship, responsibility, honesty, ethics, integrity, and teamwork while using shooting sports programs to teach these and other positive life skills to the athletes.
To learn more about SCTP or SPP call (419) 794-9924 or visit their website at www.shootsctp.org.