Obsolete Arms and Ammo
By Bob Shell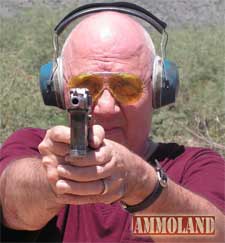 Apache Junction, AZ –-(Ammoland.com)- My good friend's wife Christine loves this gun and plans on buying one.
I have used Ruger products for the last 40 some years and always found them to be good products. In fact, I have a Blackhawk in 357 that I bought in the 60's and wouldn't trade it for a new one. I have done some testing and evaluation on quite a few weapons including both rifles and handguns and have been favorably impressed.
When I saw their 45 Commander I knew that this is a handgun that I have to try so I requested a sample from the media rep and to my surprise one came in within a week.
With the insanity going on that was a pleasant surprise. I wanted the Commander model as opposed to the full size as I have a couple of them. The pistol comes with a carrying case as well as the usual lock and a fired case which is required in some states. Two magazines are standard issue. It is a good looking gun and feels good in the hand. The front and rear sights have white dots which will aid in poor light to acquire the target. It also has a port that you can look at to determine if the chamber is loaded. In the very unlikely event of a case rupture, I cannot help but wonder how that port would affect the path of escaping gas, however I won't lose any sleep over it. I did find that the grip screws will loosen but a bit of locktite will resolve that issue.
Operation is like any typical 1911 which is my favorite semi auto. The safety is very easy and quick to release an important feature for those who carry cocked and locked. The magazine release button is very prominent and ejects the magazine with authority which is a very important feature for a fighting handgun. The magazine springs are stiff as was the gun until we shot it a couple of hundred times. That is normal with new guns so I don't regard it as an issue.
To get more info on these American made firearms you can go to www.ruger.com.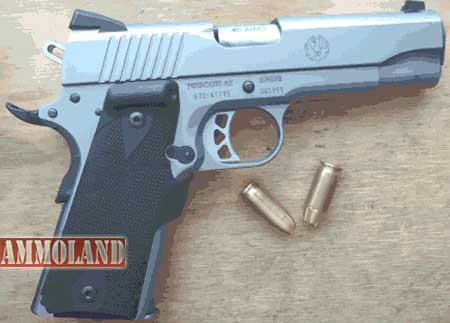 The first shooting session started out great. Everything fed including some Hornady 185 grain wad cutters. Not only did they feed well but displayed excellent accuracy. I tried some Ranier 230 grain and 185 grain Hornady XTP Hps. Both fed well. I made some 175 grain half jacket HPs and they also fed and were accurate. It points well and the sights are easy to pick up. According to my trigger pull gauge the trigger breaks at 5 Lbs.' consistently. There is a small amount of travel and creep but it is minor.
I had a couple of young ladies try out the Commander. Sarah really liked it in all aspects. She shot it well and recoil wasn't a problem for her. Amber had a more difficult time because her hands are smaller and control was a problem for her. She owns a 9 mm and shoots it just fine.
That is why they make guns of different sizes and calibers.
My shooting buddy's wife has a knack of shooting any handgun well that she picks up. I thought that she would be a perfect candidate for some shooting with this gun. At 7 yards she shot a verity of ammo and everything went into the 10 and X ring , showing that the Commander shoots everything well. She loves the gun and stated that if she bought a 45 this would be it. At 7 yards all of the ammo consistently printed into a 1 &1/2" group offhand though of course there was small differences in impact point. At 25 yards with a rest the best we could do was just over 3" though the rest was only fair. Based on a lot of shooting with this gun the 3" group could be shrunk a little with a better rest and possibly shooter.
Ironically, the 230 grain cast round nose seemed the most accurate though the Federal 230 grain FMJ was a close second.
For what the pistol is designed for accuracy is more then adequate.
I had a couple of jams with reloads but the gun isn't broke in yet so I don't consider it a problem yet. I found out that seating the bullet slightly deeper resolved the jams. Like most semis you should put at least 500 rounds before carrying it. That will also give you a good idea what type of ammo it likes. Another upside is you will get used to it and shoot better, always a good thing. Anyway if you take a good semi and feed it perfect ammo chances are it will not jam.
Is that a real test of the pistol? I think not. How about taking reloads some with lead bullets and different headstamp brass and see how they work. I did exactly that during my review as you can't always have perfect conditions to shoot in. Perhaps you didn't have time to clean up the gun or maybe the ammo got a bit dirty. I wanted to see if this Ruger would function under conditions slightly less then perfect.
We are told that a semi needs perfect ammo to function so we shall see. A revolver will continue to work as long as the bullet exits the barrel or you have a total misfire you just need to pull the trigger again and hopefully the next round won't betray you. For serious situations I do recommend you use the best ammo possible with either system. For legal reasons you are better off carrying factory loads. If you handload you can make close duplicates to get realistic practice in. I have shot quite a few cast round nose and the Ruger digests them with no issues. With the cost of bullets, that makes this gun near and dear to my heart. All of the various factory and other handloads functioned well. Even the reduced load with the Hornady WC functioned perfectly. The gun was shot about 450 times with various types of ammo without cleaning to mimic field conditions and there were no malfunctions.
I did finally clean it with a new product I came across at an NRA meeting called G-20. The gun was really dirty as can be expected but the G-20 did a nice job. They have a lot of gun cleaning and care products and to get info you can go to www.qmaxxproducts.com for more info.
I tried some loads both factory and handloads to determine how well the gun functions with varying ammo types. In my view the more types of ammo it feeds the more useful it is. One test I tried was to load there types of 230 gr round nose bullets with the same load but they are made from different materials. Wanted to see how much velocity difference there would be. I also made some half jacket hollow points to see how they will do. Some Federal ammo came in which give me an opportunity to test another brand of factory ammo. Like the other factory ammo tested, the Federal did well in my test and is a viable option for those who shoot a lot of factory fodder.
I do use their shotgun shells a lot and find that they work well on doves. Federal makes a complete line of ammo including shotgun shells and to get more info you can go to www.federalpremium.com.
When you have a handgun for personal defense it is important to test various brands and types of ammo to determine what works best in your gun. Hornady sent some of their personal defense ammo and as always, it performed well. For info on Hornady's extensive line of ammo and reloading products you can go to www.hornady.com In keeping up with testing various factory loads Double Tap was included which makes an extensive and fine line of ammo.
You can go to www.doubletapammo.com/php/catalog/index.php for info on their products.
During my testing of this gun , I came across a small custom bullet maker. He makes various novelty bullets for various handguns. I have shot some including button bullets and have always had good results. He has a 125 grain Tiger Claw hollow point for the 45. The weight intrigued me for a couple of reasons. I felt that if you loaded that to around 1200 FPS, you should have an effective personal defense round without excessive recoil or muzzle blast. If the bullet fed and was accurate I saw a real winner in the self defense arena. I did have some complaints from the female shooters that some of the ammo kicked too much. Even some of the hot 185 grain ammo produced negative comments about recoil. The CMA 125 is a full length bullet in spite of its light weight. This was achieved by putting a plastic ball in back of the lead core. The full length bullet aids in feeding and loading in the 45. I would highly recommend someone looking for a good self defense bullet check this one out. He makes various hollow base and copper base bullets and for more info you can go to www.cmacustomammo.com. He is adding new products so it would pay to keep tabs on the sight.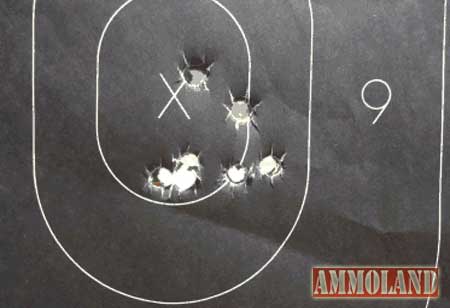 Remington made shot loads for the 45 ACP though I am not sure that they are still being made. Anyway I ran across a couple of boxes and wanted to see how they performed. So, I shot at a B-27 target at 3 yards and the patterns were pretty decent. They chambered and fired ok but wouldn't fully extract. That would make it a single shot using that load. Winchester supplied some 230 grain PDX-1 ammo for testing out the Ruger. As with most Winchester ammo it performed well and would be a viable option for general shooting or self defense. However, in my gun it had a couple of stoppages, meaning the breech didn't completely close which would cause me to not use that ammo in my gun for carrying. It would probably feed in the next 99 guns I try and it was extremely accurate in mine. That is why it is so important to try different types of ammo in your carry gun. Winchester produces quite a few types of ammo and to get more info you can go to www.winchester.com for a list. The Winchester ammo tested was consistent and warm.
LOAD – BULLET – VELOCITY – COMMENT
7.5 X 231 125 grain, CMA HP, 1153, potential
8 X 231 125 grain, CMA HP, 1312, great load
7 X 231 175 gr, HM HP, 1045, accurate
5 X 231 185 gr, Hornady WC, 722, very accurate
6.5 X 231 185 gr, Hornady XTP HP, 973, nice
7.5 X 231 185 gr, Hornady XTP HP, 1076, accurate
7.5 X 231 185 gr, Barnes TAC-XP, 1132, consistent
Double Tap 185 gr, Nosler JHP, 1182, potent
Hornady 185 gr, FTX Critical Defense, 1018, very nice
Hornady 185 gr, Z-Max Zombie, 1005, consistent
Hornady 200 gr, Tap FPD, 982, accurate
Double Tap 200 gr, Bonded JHP, 1089, consistent
8.4 X HS-6 200 gr, Berry HP, 822, mild
5.4 X Tite Group 200 gr, Berry HP, 921, consistent
Double Tap 230 gr, FMJ match, 883, accurate
6.5 X Herco 230 gr, cast RN, 908, ok
6.5 X Herco 230 gr, Ranier RN, 842, decent
6.5 X Herco 230 gr, Rem FMJ RN, 854, nice
Federal AM Eagle 230 gr, FMJ RN, 813, consistent
Federal HST 230 gr, HP, 849, nice
Winchester PDX-1 230 gr, HP, 902, warm
In spite of the 1911 design being over 100 years old there are many companies making them in 45 auto. Competition is stiff so anyone making an inferior product will soon be out of business. Ruger has nothing to worry about in that regard. Good designs just never go out of style. In order for any of these to be successful on the market it has to be reliable and within reach of a majority of shooters. Prices can vary as much as the makers. The Ruger is not the lowest priced 1911 offered but if reliability is important to you this is one that you should give serious consideration to. In addition, it is one good-looking piece. Another good thing about the 45 is the vast selection of ammo for it. You have dozens of types of ammo and that doesn't include handloading. I let a number of people shoot it and most of them fell in love with it including some female shooters. I am confident that a couple are going to purchase one as a result of shooting mine. Me? I give it a thumbs up!
One other thing that I did was to add a set of Crimson Trace laser grips. That makes a great gun even better. I have been using their products for some years and they have always performed well. I strongly recommend them on any defensive handgun. For info and a free video you can go to www.crimsontrace.com/products/type/lasergrips
Catalog Number: SR1911CMD | Model Number: 6702 | Caliber: 45 Auto
Capacity: 7+1 Grip Frame: Low-Glare Stainless
Slide Material: Stainless Steel Slide Finish: Low-Glare Stainless
Sights: Windage Adjustable Novak 3-Dot Barrel Length: 4.25″
Overall Length: 7.75″ Height: 5.45″
Width: 1.34″ Weight: 36.40 oz.
Twist: 1:16″ RH Grooves: 6
MA Approved & Certified: No CA Approved: No
Suggested Retail: $829.00
About Bob Shell
A Custom Reloader of Obsolete and Antique Ammo, Bob Shell, writes about the subject of Guns, Ammo, Shooting and Related Subjects. Visit: www.bobshellsblog.blogspot.com