Smart Optix invites dealers to check out their new & wildly popular universal digiscoping system.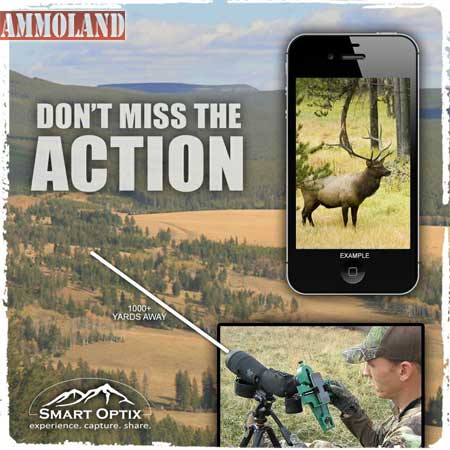 Salt Lake City, UT –-(Ammoland.com)- Smart Optix, the premium supplier and innovator of digiscoping technology is excited to seek new sporting good dealers across the country.
The all-new universal Field Guide, allow users to photograph and record video from their cell phone from hundreds of yards away while still having the protection of their phone's case still in tact.
"We are excited to bring a lightweight and rugged digiscoping phone adaptor to market that's not only user-friendly, but remarkably universal – it syncs to any phone, phone case, and optic," said Ross Varner, President of Smart Optix.

"Outdoor enthusiasts can utilize the new Field Guide to capture their outdoor experience through high-quality video recording and photo imaging from impressive distances, even thousands of yards!"
Why Smart Optix for Retail?
· Attractive margins
· Applicable & affordable for entire customer base
· Simple Inventory Management
· Limited SKUs
· Inventory never becomes obsolete
· Retained outdoor marketing firm & investing in product marketing
Smart Optix appreciates the continued and loyal business from all of its dealers across the country. Our commitment is to produce the best 100% American made digiscoping unit on the market and our dedicated staff members provide outstanding service, carrying on the Smart Optix tradition. If you have any interest in carrying Smart Optix products, please contact Ross Varner at 801.712.0530.
The growing popularity of digiscoping combined with the ease of picture and video sharing makes this product a must have from hunters to bird watchers. Capture your experiences like you never have before with the Smart Optix Field Guide. This universal adapter will allow you to easily share the things you love through your cell phone.
About Smart Optix
Smart Optix is the premium supplier and innovator of the all new Field Guide, the one and only digiscoping adapter that allow users to keep their protective phone case on while in use. The universal adaptor syncs cell phones to a variety of optic devices, such as spotting scopes, binoculars, telescopes, etc. There's never been an easier way for all hunters, birdwatchers, and outdoor enthusiasts to capture high quality photos and videos from their phone. For more information visit www.SmartOptix.com.