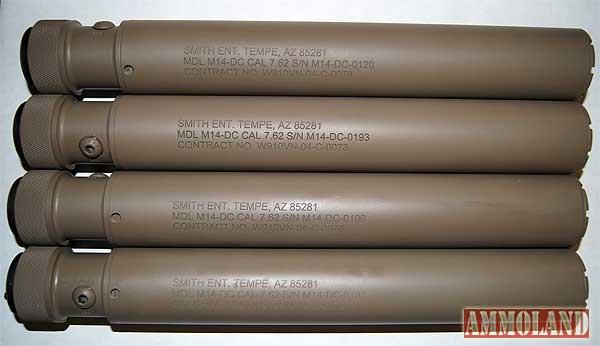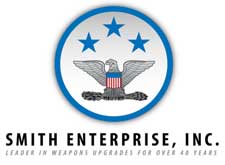 TEMPE, Ariz., –-(Ammoland.com)- Smith Enterprise, Inc received a phone call from Silver Star recipient 1SG Michael Onstine of the 2-505th PIR (Parachute Infantry Regiment) in June of this year.
He told Smith Enterprise, Inc. that he had in his possession some battle-worn Wind Talker Sound Suppressors made by Smith Enterprise from 2004 and wondered if there was anything Smith Enterprise could do to help clean them up.
Not only did Smith Enterprise clean them up, but they replaced all of the baffles inside with the patented Triaxial Baffle system as well as replace the coupler, the end cap, and the Vortex flash hider it mounts on. Smith also gave the suppressors a new paint job to MILSPEC standards.
The only thing remaining on the original Sound Suppressor was the tube itself. Everything else got replaced. 1SG Onstine and his men were pleased to have the four Sound Suppressor back in mint condition with the latest upgrades.
The Sound Suppressors were originally sent to the 2nd Infantry Division (2 ID) in Korea back in 2004. At that time the 2 ID ordered a total of 110 M14 Wind Talker Sound Suppressors along with 110 of Smith's M14 Crazy Horse upgrade kit which consisted of Smith Vortex Flash Hiders, mounts, rails, bipods, scope rings, gas lock front sites, upgraded heat treated barrels, extended bolt stop, and a long list of other parts. Right after the upgraded Crazy Horse rifles arrived in Korea, the 2 ID deployed to Iraq. Those suppressors stayed in Iraq transferring from unit to unit until the 2-505th PIR redeployed this past year.
That is when Smith got the call from 1SG Onstine with the 2-505th.
The 2-505th PIR is part of the elite 82nd Airborne Division out of Fort Bragg, NC. The 82nd Airborne is one of the main light infantry divisions in the US Army with an ongoing mission to rapidly deploy anywhere in the world at a moment's notice. The 82nd Airborne also conducts rotations overseas as part of Operation Iraqi Freedom. It was during one of these rotations where 1SG Onstine received the Silver Star. 1SG Onstine received the Silver Star for valor during Operation RUSTUM as part of Operation IRAQ FREEDOM near Baghdad, Iraq in 2007. 1SG Onstine braved through multiple fire fights while severely wounded ensuring his men got out safely before he allowed himself to be evacuated. He also acted bravely and selflessly multiple times to ensure his platoon escaped against overwhelming enemy numbers. You can read more about 1SG Onstine here at MilitaryTimes.com.
When Ron Smith, President of Smith Enterprise was asked about this he stated, "This is a no brainer. For what 1SG Onstine did for his men and this country, the LEAST we could do was get their suppressors upgraded for them. These Sound Suppressors they have are quite the find. Imagine how many battles they went through over the last 9 years? There must have easily been tens of thousands of rounds fired through them and many of fine fighting men must have taken these suppressors on and off their rifles over the years. They were in as good a shape as when we first sent them off, just needed to have the carbon cleaned off. We wanted 1SG and his men to have our new light weight coupler, our new baffles, our new end cap, and our new Vortex. We want these heroes to have the best we have to offer them."
Smith Enterprise currently sells the Wind Talker Sound Suppressor to both the military and civilian markets. Smith Enterprise also sells the Vortex Flash Hider, the Good Iron Muzzle Brake, M14 Accessories, AR15 Wrench, and several other weapon accessories and upgrades.
Smith Enterprise is also available on the Smith Enterprise, Inc. Facebook, Smith Enterprise, Inc. Twitter, Smith Enterprise, Inc. Youtube, Smith Enterprise, Inc. Googe Plus, and Smith Enterprise, Inc. Blog."
The original press release can be found on our blog.
Combat Proven!
Sincerely,
Ron Smith
President
Smith Enterprise, Inc.