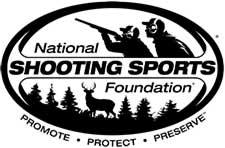 NEWTOWN, Conn –-(Ammoland.com)- AAF International (American Air Filter) has become a supporting sponsor of the National Shooting Sports Foundation's Lead Management and OSHA Compliance Workshop for shooting range owners and operators, slated for Oct. 13-15 in New Orleans.
AAF International, based in Louisville, Ky., specializes in airborne particulate and gaseous contaminant removal for indoor firing ranges. AAF's expertise and equipment can help mitigate the risks associated with airborne pollutants, thereby improving air quality, health and comfort of employees and customers.
"AAF's sponsorship underscores the importance of the Lead Management and OSHA Compliance Workshop to our industry. We greatly appreciate their support," said Zach Snow, NSSF manager of shooting promotions.
Those attending NSSF's Lead Management and OSHA Compliance Workshop will benefit from a team of experts that has hands-on experience in the fields of environmental law related to shooting ranges, OSHA compliance and inspection, and lead reclamation and range maintenance. These experts will provide range owners and operators with recommended compliance strategies to protect their business for many years to come.
These and other questions will be answered: Should I test my staff's blood lead levels? If so, which ones and how often? How do I properly dispose of certain products such as rags used to clean the range, pre-filters and HEPA filters? How can I recycle certain items, and what steps do I need to take when a recycler comes to pick up products such as lead, brass and filters?
Additional topics that will be covered include:
Case Study – Welch Group Environmental
Compliance
Environmental Protection Agency (EPA) and the Occupational Safety and Health Administration (OSHA) . . . The clock is ticking, BE PREPARED
Elements of Management Safety and Health Plan
OSHA Enforcement and Penalty Structure
Medical Surveillance and OSHA Record Keeping
Hazard Communication
Best Management Practices for OSHA Compliance
Environmental Laws and Regulations Applicable to Gun Ranges
Learn more about NSSF's Lead Management and OSHA Compliance Workshop in New Orleans October 13-15 by contacting Zach Snow at [email protected] Register on the NSSF website.
Sponsorship inquiries may be directed to Chris Tatulli at [email protected] or 203-426-1320 ext. 214.
About NSSF
The National Shooting Sports Foundation is the trade association for the firearms industry. Its mission is to promote, protect and preserve hunting and the shooting sports. Formed in 1961, NSSF has a membership of more than 8,000 manufacturers, distributors, firearms retailers, shooting ranges, sportsmen's organizations and publishers. For more information, visit www.nssf.org.