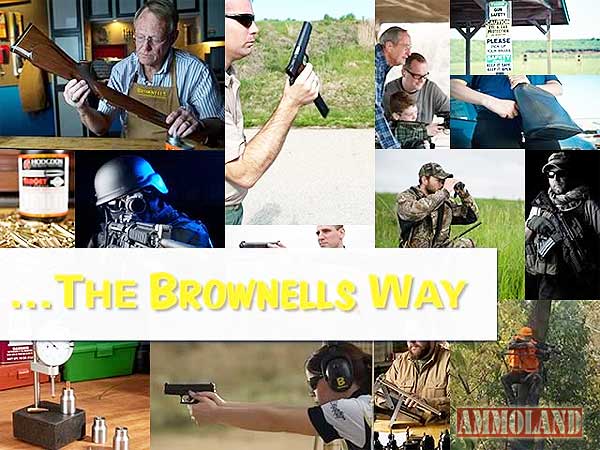 Des Moines, Iowa – -(Ammoland.com)- Everyone knows Brownells for their Forever-Guaranteed firearms accessories, ammunition, gunsmithing tools and super-helpful Gun Techs. However, most people don't know that the term "The Brownells Way" is actually found in the dictionary.
Ok – well – maybe not, but here's the official definition: "A way of life in which individuals approach every situation with a passion for all things firearms."
To prove their definition, Brownells will launch a series of videos throughout the month of October showing people in ordinary situations handling them, "The Brownells Way." As a part of the campaign customers will find special pricing on select products in the shotgun parts and gunsmithing supply categories, plus marked-down Brownells AR-15 and 1911 magazines.
A new video, along with the corresponding deals, will be launched every Monday starting September 30 and lasting through October 21, 2013. The videos can be seen at Brownells.com/thebrownellsway.
"October has become a 'fun month' for us at Brownells," said Brownells President/COO, Matt Buckingham. "The last two years we did lighthearted Zombie campaigns, but this year we decided to do something fresh, fun and different, while still providing our customers with some great offers. I'd really encourage everyone to visit our website and checkout the videos and those special bargains."
Founded in 1939, Brownells is an Iowa-based, family-owned company that supplies more than 82,000 firearms parts, accessories, reloading components, gunsmithing tools, and ammunition to armorers, gunsmiths, the military, and shooters worldwide. In addition to their industry-leading 100% lifetime guarantee – forever – on EVERY product sold, their staff of veteran Gun Techs is available to assist customers with technical help to fix any gun-related problem – free of charge. There are no minimum order sizes or return/exchange fees. To place an order, or for more information, call 800-741-0015 or visit www.brownells.com.