Invokes "Wild West" hyperbole…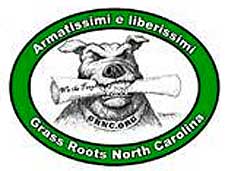 North Carolina –-(Ammoland.com)- Ashe County, NC is back in the news once again, being urged by its attorney, John Kilby, to push park gun bans to the point of breaking state law.
According to reports, Kilby has advised Commissioners that expansion of carry rights provided by GRNC-backed legislation (now Session Law 2013-369) still has "gray areas" subject to interpretation about where bans can be enacted in "athletic facilities".
What is it about the illegality of gun bans in parks that apparently makes municipalities want to pass them? Wouldn't a responsible civic leader avoid taking any action that might break the law? Politicians who support violating the Second Amendment rights of their constituents don't appear too worried about violating state law either.
When asked what the consequences of not enacting any ban at all would be, Kilby reportedly answered, "Wild West, I guess."
Commissioners will next meet Tuesday, January 21st. The issue may be raised again. We should be there to remind them "less is more" when restricting rights of citizens.
IMMEDIATE ACTION REQUIRED!
Email Commissioners. Tell them there's no reason to ban carry in parks.
Plan to attend the Commissioners' meeting this Tuesday, January 21, 1:00 pm, at the Ashe County Courthouse (150 Government Cir., Jefferson, NC 28640) in the small courtroom. Contact Gene Maples (information below) to coordinate participation.
Help GRNC continue to defend your rights by joining and/or donating HERE or go to: https://www.grnc.org/join-grnc/contribute
Contact Information
Use this cut-and-paste list to email Ashe County Commissioners:
[email protected]; [email protected]; [email protected]; [email protected]; [email protected]
Coordinate attending Tuesday's Commissioners meeting with Gene Maples, Phone: (910)638-3333, email: [email protected]
DELIVER THIS MESSAGE
Suggested Subject: "No Ban is Needed"
Dear Commissioner,

Since 1995, hundreds of thousands of law-abiding North Carolinians have been carrying concealed handguns just about everywhere in our state. During this same period, violent crime rates have decreased by 46%.

Despite "Chicken Little" predictions by opponents of expanded carry laws, citizens with concealed handgun permits have proven themselves to be the most law-abiding group in our state. They deserve your respect, not efforts to ban where they are permitted to defend themselves and their families.

The state has wisely expanded where North Carolinians may carry firearms. There is no reason for Ashe County to enact bans. The "Wild West" predictions of your attorney are unfounded. If you should decide to unnecessarily restrict lawful carry, common sense dictates you should avoid bans in areas that may conflict with state law. If a ban is in what your attorney mischaracterizes as a "gray area" it most likely is illegal and should be avoided.

Failure to comply with state law may have serious consequences, including wasting taxpayer money on litigation you cannot win. I will be monitoring your actions via Grass Roots North Carolina legislative alerts.
About:Grass Roots North Carolina is an all-volunteer organization dedicated to preserving the freedoms guaranteed us by the Bill of Rights. Our main focus is the right to keep and bear arms. GRNC was central to drafting and passing North Carolina's concealed handgun law and since that time has continued to push for improvements to gun laws. Visit:www.grnc.org