Post Falls, ID –-(Ammoland.com)- Bucks knives is please to introduce three great new products for 2014. All these knives will be on display at the 2014 SHOT Show.
Stowaway Kit– USA Made
When Buck's customers talk—Buck listens. With the popularity and demand of the Travelmate Kit surpassing expectations last year, it is no wonder that the famous slicing and dicing spreader would find its way into yet another design for those on the go. Available in two separate sizes, the Stowaway kit includes a durable cutting board made from Paperstone® and the famous spreader. For easy and convenient storage, the cutting board contains a small cutout on the backside with a strong magnet to securely hold the spreader in place. MSRP: $75-$80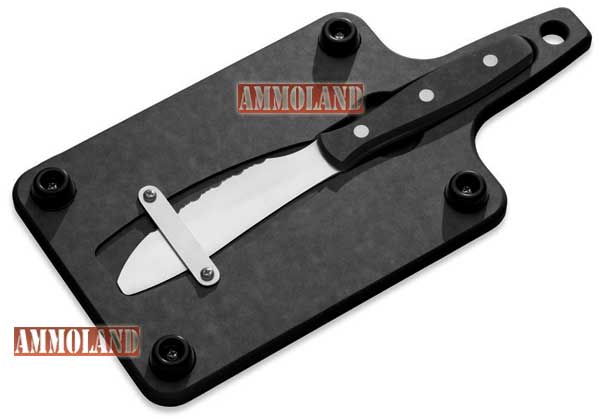 Endeavor– USA Made
Designed for camping and hiking, the Endeavor is an essential must-have for outdoor adventures. With a 9 ½" overall length and weighing in at only 6.6 oz., this knife is light enough to carry everywhere and strong enough to withstand extreme tasks. The 420HC steel serrated blade is sharp and precise. MSRP: $70
Survival
Buck/Hood Thug– USA Made
Buck launched another Buck/Hood creation, based off the designs of the late Ron Hood.  Adding another survival knife will serve to complement the highly-demanded designs. The Thug features the integrated Shock Mitigation System (SMS) to minimize wasted energy during use, has a removable CNC textured Micarta® handle scale and includes a heavy-duty nylon, M.O.L.L.E compatible sheath with front storage carry pouch. Measuring 13" in overall length and with a weight of 11.6 oz., this rugged midsize survival knife was built to withstand extreme conditions.  MSRP: $200
About Buck Knives:
Behind every Buck knife is 100 years of experience and craftsmanship. We use the very best materials and state-of-the-art technology to create knives that meet the exacting demands you would expect of a high quality knife. And we stand behind every knife we make with our 4-Ever Warranty.
At Buck, you'll always find a wide range of knives to choose from. Each knife we bring to market has been thoughtfully designed and engineered. Blending the right properties into stainless steel will ensure that your knife has the right hardness and strength. Heat-treating or tempering the blade helps the knife hold its edge longer and makes it easier for you to re-sharpen the blade. It's the heart and soul of the blade in our humble opinion. Visit: www.buckknives.com