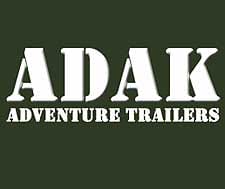 Gelndale, Az – -(Ammoland.com)- ADAK Adventure Trailers introduces their one-of-a-kind vehicles at the Phoenix International Sportsmen's Expo (ISE), Feb 20-23.
These trailers are perfect for every hunter, fishermen, or camper for multiple outdoors activities. It's a year-old company taking camping trailers to a new level, leaving RVs in the dust.
Many great outdoor locations exist 10 or more miles off a paved road where most trailers cannot go. The ADAK trailers can go anywhere a vehicle can tow them because they're designed to withstand tough conditions. Custom torsion bar suspension is used to create stability, a smooth ride and to insure there is nothing hanging below the trailer to get caught.
"No pavement, no problem," said Warren, owner of ADAK.
An ADAK trailer spoils any outdoors enthusiast and also keeps them safe and comfortable. These trailers facilitate a grown-up version of outdoor activities because people are no longer camping on the ground without necessary amenities.
ISE is a large outdoor convention with over 200 vendors and a variety of hands-on features, fun contests, and free hunting and fishing seminars. Many vendors have large-ticket items selling with on-floor specials specific to this expo. ADAK is bringing the latest Overland four-season trailer with every option installed.
"The great thing about ISE is that there are hardcore outdoor sportsmen who really understand why our product is so important," Warren said.
Warren's favorite place to take the trailers is desert climates where the large wheels can roll over rocky mountain trails. ADAK is keeping busy going to expos such as the Moab Jeep Crawl, NRA Indy 2014, OverLand Expo and many more.
"We will be way out in the desert, off the grid with our trailers and it's a blast for us," Warren said.
ADAK's primary design is for recreational uses but they also can outfit trailers for the needs of Law Enforcement, First Responders and Military.
Look for ADAK Adventure Trailers at the Phoenix International Sportsmen's Expo Feb 20-23, 2014. Check out their latest trailer with all the upgrades.
Get your tickets for the Phoenix International Sportsmen's Expo here and use the code "BLACKDOG" to receive a discount.