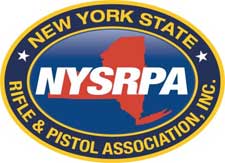 New York –-(Ammoland.com)- There is some discussion and finger pointing going on regarding the New York State Rifle & Pistol Associations (NYSRPA) decision not to be directly involved in anymore large rally's; and rather than you hearing by rumor our reasons I thought I'd address the situation directly.
The NYSRPA Board of Directors has decided that our time, efforts and assets are better utilized in the following ways:
· Funding the SAFE Act Law Suit to overturn this terrible law
· Registering voters
· Educating non voters on the importance of their vote and getting them to the polls
· Participating in small localized forums around the state where the message can be better heard
· Supporting our local groups to have their voices heard
· Supporting local grass root boots on the ground efforts
After much discussion this decision was reached for the following reasons:
· Since the large rally of February 28, 2013 ensuing rallies have dwindled in size. Not because gun owners have lost interest but because we all work and it is expensive to take a day off, pay to come to Albany and still be ignored by the downstate liberal politicians.
· The Legislators already know we are disturbed, don't care and will not repeal the SAFE Act just because we fill West Park
· We are preaching to the choir. We have seen the same groups and the same people at every rally
· The rally on April 1, 2014 includes Frackers, Right to Lifers and Land Owner Rights Groups. All worthy issues but not 2nd Amendment issues! We are a single issue advocacy group and our message becomes compromised with these other groups included.
· Our voices are becoming more contentious and threatening
There have been many studies and surveys done regarding the population demographics of the people of this country and state our research tells us New York State is divided in this manner
Rabidly Anti-Gun 22%
Somewhere in between 46%
Avidly Pro Gun 32%
Fellow gun owners I submit this to you for your consideration. We will never convert the 22% rabid anti-gunners, we don't have to convert the 32% avid pro gunners but we must convert a sizable portion of the 46% of those somewhere in between if we want to retain our 2nd Amendment Rights long term.
These are the soccer moms, the guys who say I've never shot a gun but would like to try it and the people worried about their safety. How do we do that? Not by standing on stage screaming obscenities at Cuomo and certainly at large rallies where people stand on stage, pound their chest and tell the attendees to prepare for war. That frightens the very people we want to attract to our side, the people who will insure 2nd Amendment Rights for our grandchildren.
The NYSRPA believes we do it through the methods outlined above and we welcome all to join with us.
Tom King
Cogito ergo sum ​​armati
About:
The New York State Rifle & Pistol Association is the state's largest and oldest firearms advocacy organization. Since 1871, our organization has been dedicated to the preservation of Second Amendment rights, firearm safety, education and training, and the shooting sports. Our membership consists of individuals and clubs throughout the state. We are a not-for-profit 501(c)4 organization and the official NRA-affiliated State Association in New York. Visit: www.nysrpa.org