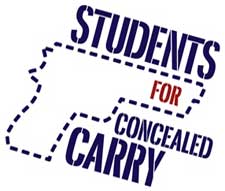 Idaho – -(Ammoland.com)- Idaho Governor C.L. "Butch" Otter has signed campus carry bill SB1254 into law, which is expected to go into effect on May 21, 2014 (60 days after the Idaho legislative session ends).
The bill allows law abiding adults over the age of 21 who have been issued an Idaho enhanced concealed carry permit to carry a firearm onto most parts of campus without fear of reprisal from the university.
With the passage of this bill, Idaho joins the states of Colorado, Kansas, Mississippi, Oregon, Utah, and Wisconsin which have provisions for law abiding citizens to be able to carry firearms onto parts of campus grounds. Some additional states, such as South Carolina, allow licensed persons to store firearms in a car, but otherwise forbid firearms on college campuses.
Although Idaho will not allow firearms into dormitory buildings or into campus building hosting a sporting competition or similar event, this measure allows students in Idaho to exercise their right to self-defense while attending class, a right already available to their counterparts in Colorado and Utah.
"This is a major step forward for Idaho, and for our nation as a whole", said Kurt Mueller, Students for Concealed Carry's Director of Public Relations. "We have seen these policies in effect in other states without the massive negative consequences predicted by our opposition, and we have every expectation this will be Idaho's experience."
Students for Concealed Carry is working to ensure that the momentum from this move will spread to similar efforts underway in nearby states, particularly Texas.
"Texas has proposed campus carry a few times over the past couple of years, with various versions being passed by either the Texas House or Senate. We hope that the shared experience of its sister states will show Texas and the rest of the nation that these types of laws are successful and do not impact the academic mission of universities," Mueller said.
Media resources available at concealedcampus.org/media
CONTACT:
Kurt Mueller, Director of Public Relations
Students for Concealed Carry
[email protected]
Ph. (202) 670-3496
ABOUT:
Students for Concealed Carry is a national, non-partisan, grassroots organization comprised of over 40,000 supporters which advocates for legal concealed carry on college campuses. Visit: www.concealedcampus.org