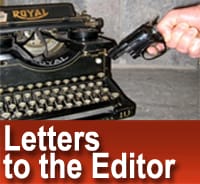 Laramie County, Wyoming –-(Ammoland.com)- I am a big supporter of the natural right to possess and carry firearms in all locations in the USA, including schools, churches, public property, hospitals, government buildings – no exceptions.
I am also a big supporter of a smaller federal government, including a smaller military. It appears that I am at odds with AmmoLand in that regard. Today's reposting of the Christian Patriot article "Proposed Military Cuts: When It Comes to Our Armed Forces, Size Matters" that argues against reducing the number of active military personnel reveals your love of a big federal government.
I can argue against the article on the facts. For example, the number that Hagel proposes does not include contractors (mercenaries) who are becoming a significant expenditure on the other side of the world. Thus the number who are in uniform is not a good measure of how big our military is (total military spending is much better).
Another example is that fact that fewer people are required to fight a war or keep the peace. With the advent of automation and robots, the number of soldiers and contractors required is reduced significantly. Thus to project the same power, fewer soldiers are needed.
Third, the USA already spends more than the combined total of the next 10 largest countries' military expenditures in the world. Just like the rest of the federal government, our military is a bloated mass of wasteful and corrupt spending and useless programs.
Like most of the rest of the federal government, expenditures for defense could be cut in half with very little impact on performance or capability. The real danger to the long term safety of our country is the national debt, not a bunch of Muslim extremists. I read recently that expenditures on interest on the national debt will exceed expenditures for the military next year. That's really bad!
We need to shrink government, all government, and that includes the military. I could go on based on the merits, but that's really not relevant. I suspect I can't change the minds of the editors at AmmoLand, so why waste the electrons.
The actual reason that AmmoLand should not take a position on military expenditures is you will lose support for gun rights when you take political positions that some who support gun rights strongly disagree with. For example, many who support legalization of marijuana are also big supporters of gun rights. You will lose them if you take a position against legalization. Your support for a bloated military causes me to question whether or not I should continue to read and support AmmoLand. For now, I won't cancel my daily email, but if you continue to step outside the bounds of the gun rights issue, I will no longer be interested in what you have to say.
Sincerely,
Don Wills
Laramie County, Wyoming