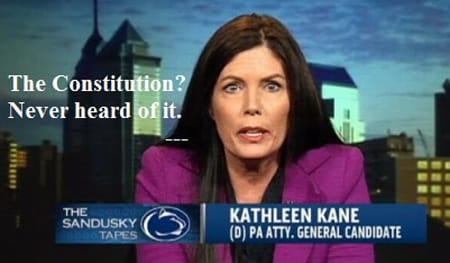 Covington VA –-(Ammoland.com)- Pennsylvania's Attorney General, Kathleen Kane, a virulent anti-gun Democrat, severed all reciprocity and recognition with Utah.
Virginia Citizens Defense League's (VCDL) counterparts in Pennsylvania say that her actions are unlawful and follow previous actions in changing reciprocity agreements with Florida and Arizona and VIRGINIA, as well as eliminating statutory recognition of Idaho.
Further, Kane announced, through her office staff, that she is reviewing the reciprocity/recognition agreements in place with every other State.
The fact that under Pennsylvania Law she completely lacks statutory authority to change or eliminate any of the above is not deterring her.
Lawlessness by the Executive branch seems to becoming commonplace lately.
If she continues down this path, we could lose ALL reciprocity with Pennsylvania.
Let's send an email to the Governor of Pennsylvania and get full reciprocity restored to Virginia non-resident permits.
Email address:  [email protected]
Suggested Subject:
Restore concealed handgun permit reciprocity with Virginia!
Suggested message:
Dear Governor Corbett:

I recently discovered that your Attorney General, Kathleen Kane, extra-legally has severed or modified concealed carry of firearms reciprocity/recognition agreements with four states thus far.

Ms. Kane is playing politics with the safety of gun owners.

It's a shame, but I will not be visiting your state and I will avoid doing business with companies in your State as a result of these extra-legal actions of Ms. Kane.  Instead I will look to Virginia, Kentucky, Indiana, and West Virginia for my vacation needs.

Sincerely,
About:
Virginia Citizens Defense League, Inc. (VCDL). VCDL is an all-volunteer, non-partisan grassroots organization dedicated to defending the human rights of all Virginians. The Right to Keep and Bear Arms is a fundamental human right. Visit: www.vcdl.org