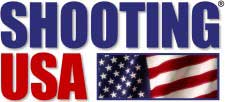 USA – -(Ammoland.com)- Shooting USA – The USPSA Production Gun Nationals
"Win on Sunday, Sell on Monday" has made the Production Gun Nationals the most significant competition in run-and-gun competition.
The best Pro Shooters are competing with their manufacturers' stock pistols, hoping a National Championship will persuade you to buy their gun. Plus, the FP-45 Flare Projector that would get the name Liberator after the war. And John changes a shotgun bead to improve your sighting in a Brownell's Home Gunsmithing Tip.
Shooting USA's Impossible Shots Classic – The Best of Speed Rifle
Smith & Wesson Pro Jerry Miculek loves getting new guns. This time Jerry's picked up a M&P 15-22 and breaks it in the only way he can with Blistering speed and incredible accuracy. World Fast Draw Champion Cisko just wants to shoot like everyone else on the Impossible Shots Pro Team, so he dumps the wax bullets from his six gun and loads up with live ammo. It's fast-draw action with lead flying. And Byron Ferguson takes on all sports, football, tennis, and even golf! They're no match for the master of the longbow.
NEW AIR TIMES BY TIME ZONE
The Shooting USA Hour Wednesdays:
Eastern Time: 3:30PM, 9:00PM, 12:00 Midnight
Central Time: 2:30 PM, 8:00 PM, 11:00 PM
Mountain Time: 1:30 PM, 7:00 PM, 10:00 PM
Pacific Time: 12:30PM, 6:00 PM, 9:00 PM

Shooting USA is listed as a one hour show in your cable menu.
Shooting USA's Impossible Shots – New Air Times – 4 Times on Wednesdays:
Eastern Time: 3:30AM, 3:00 PM, 11:00 PM, 2:30AM Thursday
Central Time: 2:30AM, 2:00 PM, 10:00 PM, 1:30 AM Thursday
Mountain Time: 1:30AM, 1:00PM, 9:00 PM, 12:30 AM
Pacific Time: 12:30AM, Noon, 8:00 PM, 11:30 PM
It's Time for More of the Impossible:
Now you can catch America's Best Shooting Sports Show four times each week! Tune into Impossible Shots all day Wednesday and early Thursday morning. New show times are noted above!
Are You Connected?
The Shooting USA Show Page on Facebook will keep you briefed on what's happening this week.
https://www.facebook.com/JimScoutten.ShootingUSA?ref=br_tf
Jim Defending the 2nd by Example in the 21st Year
[email protected]