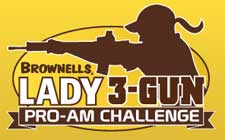 Harleyville, S.C. – -(Ammoland.com)- Ten openings are still available for the Brownells Lady 3-Gun Pro-Am Challenge, to be held at Atlanta 3-Gun – South River Gun Club in Covington, Ga., from Friday, Oct. 29 to Saturday, Nov. 1, 2014.
This match is the first of its kind, and is open to female 3-Gun competitors of every skill level. More than $275,000 in sponsorships and prize table products have been donated by the Lady 3-Gun's extensive list of sponsors.
Match fee is $225 per competitor.
Visit the Lady 3-Gun website to register before Wednesday, Oct. 27, 2014.
Follow Lady 3-Gun on Facebook and Twitter.
About:
Founded in 1939, Brownells is an Iowa-based, family-owned company that supplies more than 75,000 firearms parts, accessories, reloading components, gunsmithing tools, and ammunition to armorers, gunsmiths, and shooters worldwide. In addition to their industry leading 100% lifetime guarantee on EVERY product sold, their staff of veteran Gun Techs are available to assist customers with any need – free of charge. There are no minimum order sizes or fees. To place an order, or for more information, call 800-741-0015 or or visit Brownells.com