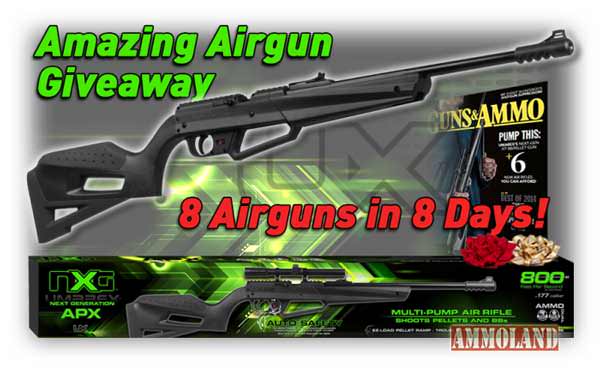 Fort Smith, AR -(Ammoland.com)- Umarex USA has announced the celebration of Thanksgiving, Black Friday, and Cyber Monday with the Amazing NXG Airgun Giveaway that will make eight shooting sports fans very, very happy.
Umarex USA is giving eight lucky people a brand new NXG (Next Generation) APX rifle—just for signing up for the Amazing NXG Airgun Giveaway on the Umarex USA Facebook page or website: v.gd/WinAirguns. This giveaway comes just as the new rifle is hitting sporting good stores and dealer shelves in time for the holidays.
One of the most sought after gun gifts this Christmas, the NXG (Next Generation) APX is equipped with a multitude of modern-day features that includes an automatic safety—the first auto-safety found on a pump-up rifle of this type. The APX has a progressive stock design that's ergonomic, modern and impact resistant. Its grip is designed with a narrow curve that's comfortable in the hands of small-framed shooters creating better control to promote a safer shooting environment.
The multi-pump action and easy-load pellet ramp are easy to use for right or left-handed shooters and it deploys non-lead pellets up to a velocity of 800 feet per second with 10 pumps. Mounting a scope to the APX is easy with its integrated tactical-style scope mounting rail system. All of these features combine to make shooting the Next Generation APX from Umarex a target-busting experience for shooters of all ages.
You can sign up for the giveaway by going here: v.gd/WinAirguns or head over to the Umarex USA Facebook page for more information.
About Umarex USA
Umarex USA is one of North America's fastest growing sport and recreation gun companies. Umarex USA develops and markets airguns under brands licensed by its parent company, Umarex Sportwaffen GmbH & Co. KG. Such brands include Walther, RWS, Smith & Wesson, Browning, Heckler & Koch, Ruger, Beretta, Colt, Magnum Research, Regent, IWI, UZI, and others. For additional information regarding Umarex USA visit UmarexUSA.com and follow Umarex USA on Facebook and YouTube.
Always remember safety first. For airgun safety rules and precautions please visit: http://www.umarexusa.com/AIRGUN-SAFETY.html.