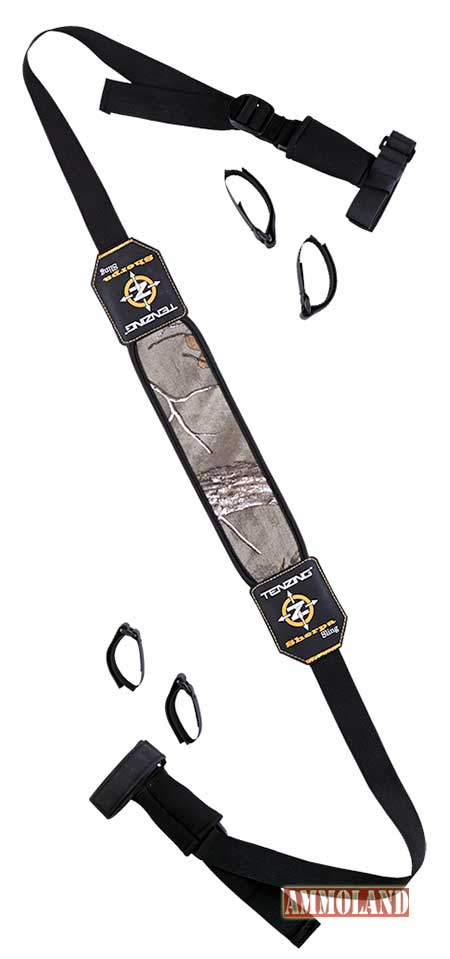 Columbus, GA -(Ammoland.com)- Whether you're working around your farm, or setting up your hunt camp, you'll move a staggering quantity of gear and supplies, and your back will pay for it.
In fact, if you're not careful, a back injury can bring your enjoyment in the outdoors to an end. The new Tenzing TZ ss15 Sherpa Sling helps you lift those loads more easily and safely. The Sherpa Sling, available in Realree Xtra, is the ultimate carryall load sling — a relatively simple idea executed with maximum impact through Tenzing's brand-defining engineering and attention to detail.
The Sherpa Sling takes heavy loads off the back and arms and distributes them among the stronger muscle groups in the legs, shoulders and core. The Sherpa Sling is designed to comfortably tote light or heavy loads, as well as any difficult or awkward-to-carry item. Sure, it makes a great bow, crossbow or rifle sling, but the TZ SS15 Sherpa Sling comes into its own when carrying the hunter's tree stands, climbing ladders, coolers, decoy bags and more. Around the homestead, it's the perfect tool for carrying propane tanks, firewood, hay bales… even laundry baskets.
If you can secure the load with rope or any of the three included strap sets, the Sherpa Sling will carry it… easier and a lot more safely. The Tenzing TZ SS15 Sherpa Sling can attach to itself and be worn like a belt until its heavy lifting power is needed. When pressed into duty, the Sherpa Sling can be worn over a single shoulder, or across the body, bandolier-style.
The Sherpa Sling's 1 1/4-inch ballistic Nylon webbing strap ensures heavy lifting capability. The middle section of the strap is covered with 2 3/4-inch wide, ¼-inch thick Neoprene, providing both grip and just the right amount of stretch for amazing comfort. This Neoprene section is finished in Realtree Xtra Spandex for additional comfort, durability and concealment in hunting applications. Both ends of the Sherpa Sling accept Hypalon straps with high strength Velcro closures to secure your chosen cargo. Three sizes of straps are provided, but rope, paracord or even ratchet straps can also be used in a pinch to attach particularly large or unwieldy loads. Duraflex hardware completes the list of this small wonder's high-end components.
Features:
1 1/4-inch wide primary strap webbing
2 3/4-inch wide x 1/4-inch thick non-slip Neoprene shoulder sling covered in Realtree Xtra Spandex
8, 10 and 12-inch Hypalon carrying straps with Velcro closures to secure a variety of loads
Duraflex hardware
About Tenzing
First introduced at the Archery Trade Association (ATA) Show in January 2012, the Tenzing line of innovative, high-tech, high performance packs are engineered and built to help hunters go farther, stay longer, and comfortably carry incredible loads in and even bigger ones back out. Tenzing packs are constructed from the finest materials available, including the world's strongest fiber, Dyneema, and designed to be the lightest, most rugged, best organized and most versatile packs on the market. Tenzing packs are fully adjustable to result in a perfect fit for any hunter. Combining his life-long passion for the outdoors with a relentless desire to be the best at his craft, Jay Robert is the soul and spirit behind the Tenzing brand. A company of hunters who listen to other hunters, Tenzing pursues innovation through real world product feedback from one of the hardest-working hunting pro and field staffs in the industry. The ever expanding Tenzing product lineup includes carbon fiber frame packs, full-sized backpacks, lightweight day packs, lumbar packs, archer's packs, women's-fitted packs, turkey packs, upland bird packs, waterfowl blind bags, high-performance bow cases, gun cases and related accessories. Tenzing products have received numerous recognitions for innovation and quality, including a prestigious Field & Stream Best of the Best 2012 Award for the Tenzing TZ 2220.
Learn more at www.tenzingoutdoors.com.