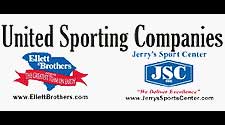 Chapin, SC -(Ammoland.com)- United Sporting Companies (USC) is proud to announce it's been recognized as South Carolina's 5th largest privately held company out of 100 published in the 30th Annual South Carolina 100, compiled by Grant Thornton LLP for the 2014 fiscal year.
"We are proud of the growth that USC has achieved over these past few years. Knowing that we are now the 5th largest private company in the state, and one of the largest participants in our industry is a tremendous accomplishment and honor. I accept this award on behalf of all USC associates who helped make us the industry leader we are today," said Brad Johnson, USC CEO & Chairman of the Board.
South Carolina 100 is the only ranking of South Carolina's largest privately held companies and is compiled by Grant Thornton LLP under the direction of Mark Ballew, partner-in-charge of the Columbia office, in cooperation with the South Carolina Chamber of Commerce.
Grant Thornton LLP is the U.S. member firm of Grant Thornton International Ltd, one of the world's leading organizations of independent audit, tax and advisory firms. Grant Thornton has 56 offices in the United States and services dynamic companies in South Carolina, the United States and around the globe.
About United Sporting Companies (USC)
United Sporting Companies (USC) is a leading nationwide distributor of hunting, outdoor and marine products. The company operates through two subsidiaries, Ellett Brothers and Jerry's Sport Center which were founded in 1933 and 1949, respectively. Providing the Industry's largest product selection of over 85,000 SKUs in combination with the endless support of the most knowledgeable sales force in the country, USC proudly and efficiently serves over 30,000 independent retail customers across all 50 states through sales offices and distribution centers in Chapin, SC, Newberry, SC, Pittston, PA, Harrisburg, PA, Downingtown, PA, Dayton, OH, Spring Hill, KS, Dallas, TX, Reno, NV and Sacramento, CA.