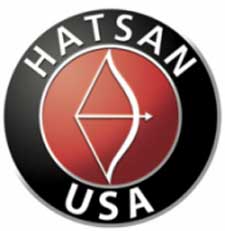 İzmir, TT -(Ammoland.com)- HatsanUSA Inc. is proud to announce that Thomas F. Gowen & Sons has been awarded Manufacturer Sales Representative Agency of the Year for 2014.
"My industry relationship with Thomas F. Gowen & Sons goes back to 1997. And since 2013, they have been an integral part of our continued growth – especially over the past year," said HatsanUSA Inc. President and CEO Blaine Manifold.
Thomas F. Gowen & Sons received their award during the 2015 SHOT Show in Las Vegas. The agency's own Ryan Wimer also received special recognition at the trade show when he was awarded Sales Representative of the Year from HatsanUSA.
"This year Ryan Wimer showed a sense of professionalism, work ethic, and strong industry relations which really deserved special attention," said Manifold. "I'm excited to see what Ryan and the rest of his team at Gowen and Sons will bring to the table in 2015. This is an exciting time for all of us."
Thomas F. Gowen & Sons is currently HatsanUSA's Northeast manufacturer's sales representative agency with presence in West Virginia, Virginia, Pennsylvania, New Jersey, New York, Connecticut, Massachusetts, New Hampshire, Vermont, Maine, Maryland, Rhode Island and Delaware.
Founded in 1976, Hatsan is a vertically integrated Turkish manufacturer that is revered throughout the world for creating some of the industry's best products. The company produces nearly all of its components in-house, including precision rifled barrels made from premium-quality steel as well as elegant Turkish walnut stocks. Until HatsanUSA Inc. was established, these finely crafted airguns were unavailable for purchase in the United States despite strong demand.
About HatsanUSA Inc.
HatsanUSA Inc. gives U.S. customers the first opportunity to purchase Hatsan airguns, known and respected throughout the world for their premium Turkish craftsmanship, quality, and hard-hitting performance direct from Turkey.
For more information on HatsanUSA, please visit www.hatsanusa.com.