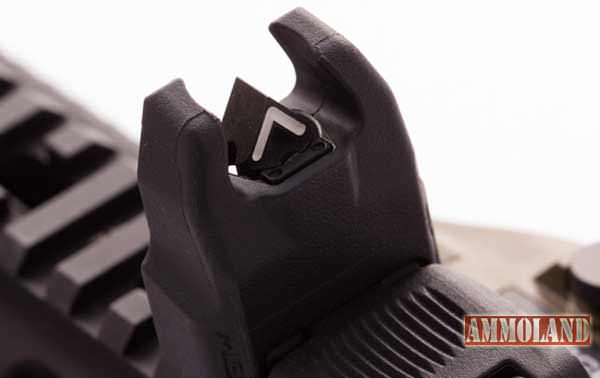 USA – -(Ammoland.com)- Blitzkrieg Components, LLC has released a line of completely new front sight posts for AR-15 iron sights.
Seeing the need to combine speed and precision in modern iron sights, Blitzkrieg Components set out to design a front sight post that delivered effectively in both of these areas.
Their unique chevron shaped sight post has a sharp tip making precise aiming easier.
No longer is the aiming point a fat square that is larger than the entire target you are aiming at. Instead you can center the sharp aiming point on the exact point of impact giving the shooter much greater confidence on long range shots and small targets. But unlike most match type sights which are very narrow and hard to see quickly under stress or against different backgrounds, the Blitzkrieg Chevron is bold and very easy to see in speed shooting drills.
The chevron shape naturally leads the shooter's eye to the sharp aiming point and with their high visibility contrast paint options, the sight stands out like no other. It's like having a bold arrow pointing to your point of impact with a sharp tip for those precise shots. Tactical shooters and 3-gun competitors alike appreciate its capabilities.
The current options include a thin all-black chevron, a black chevron with a contrasting white chevron stripe, and a black chevron with a luminescent green chevron stripe. The thin all-black chevron is intended for those who prefer an all-black sight but want the improved sight picture that the chevron shape provides. The chevron on the black sight is thinner with a larger center cutout for a greater view of the target.
The white chevron is a very popular all around sight option that provides a visually appealing white/black look that allows you to see it easily against light or dark targets and backdrops. It is much easier to see in bright light or low light than a standard black sight post.
And for those who want the highest daylight visibility combined with a night and low-light capability, there is the luminescent green chevron.
The luminescent chevron is painted into a machined grove using an advanced multi-layer application process and appears bright yellow in daylight. With even a short charge from sunlight or a flashlight it glows very bright green in low-light and complete darkness. While its brightness does fade over time, it glows far brighter than any tritium sight for the first 30 minutes after which it glows at a lower level for several hours. The luminescent chevron is also much larger than a typical tritium dot or bar making it far more eye catching.
Recharging it can be done in as little as a few seconds, but longer charge times result in a longer glow time. It has exceptional performance in transitional situations such as going from daylight into a dark room or shoot-house or a shady wooded area. In such scenarios, tritium and fiber optic sights don't even come close. Being able to see your front sight easier and aim more precisely is obviously a huge advantage and with the plethora of AR-15 type iron sights in use, these should have very wide appeal.
All of Blitzkrieg Component's chevron sights are made of precision machined stainless steel with a corrosion resistant nitride finish and come with a matching black stainless steel sight tool.
They will fit into any AR-15 type front sight housing that accepts a standard AR-15 front sight post. The retail price is $34.95 for the all black chevron, $39.95 for the white chevron and $44.95 for the Luminescent Green chevron.
For more information contact Blitzkrieg Components, LLC at 320 Bayshore Dr STE C, Niceville, FL 32578, (850)217-3021 or visit their website at www.blitzkriegcomponents.com.