By Major Van Harl USAF Ret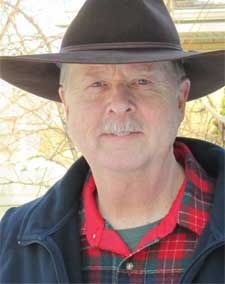 Wisconsin –-(Ammoland.com)-  When the Army – Air Force broke away from the US Army in 1947, and became the United States Air Force they made one major mistake that they have never figured out how to fix.
They did not bring any Infantry over to the Air Force side, so there could be Soldiers-turned-Airmen to stand with a rifle in their hand and defend an air base.
Back in the olden days airfields were far to the rear of the frontline battlefields. The belief was airfields would not be overrun by enemy ground forces, so why waste valuable Airman-manpower doing Soldier stuff.
My big Air Force felt and still feels that Airmen are there to fly planes, fix broken planes and maybe even stand guard duty to make sure no one steals an aircraft, but you do not waste Airmen defending the Air Force mission on the ground. If it gets that bad just launch all the planes and send them off to safety.
After the Japanese destroyed most of the US air assets on the ground in the Philippines there were a whole lot of Army-Airmen with nothing to do as practicing Airmen. So General MacArthur had these Army aircrew members and maintenance troops issued rifles, bayonets and WWI helmets so they could try to be part-time Infantry when the Japanese Army overran the islands.
Pilots and maintainers did not make good Infantry back in 1942 when they still had the title Army written on their orders. They do even worse now that these modern Airmen really do not see themselves as Soldiers.
So what the Air Force did with the coming of the Korean War, and ever since, was take the "cops" of the Air Force whether they were called Military Police/MP, Air Police/AP, Security Police/SP or Security Forces/SF and declare in time of conflict the "cops" were their Infantry. The "cops" would sort of go into "time-out" as policemen, stop doing police things like writing tickets, responding to calls and investigating crimes to become part-time Soldiers. For thirty years the ground combat training was less than stellar.
In the early 1980s the AF started sending their "cops" to Ft. Benning, Georgia to attend Army Infantry School. As an AF "cop" I attend the Infantry Officer Basic Course and learned how to be an Infantry leader. I took a lot of Bravo Sierra kidding from my fellow Army classmates being only one of three Air Force officers in the class.
They believed and were continued to be taught by the Army instructors that the Air Force was not going to be there for them when the hard times of battle would inevitably come.
However one of our final live-fire exercises was when 200 of my classmates were on a range, firing from M-113 armored tracked vehicles. We were shooting at old tank hauls and truck bodies with 50 caliber machineguns, M-60 machineguns and our M-16 rifles.
Then, some US Air Force A-10 tank killing Warthog aircraft showed up on our firing range, and proceeded to destroy everything sitting in the open down range. All the students stopped firing their weapons and stood in amazement watching.
The A-10s stole the show and our instructors were not happy. They demanded we keep firing our weak little ground weapons as the A-10's, 30mm GAU-8 Avenger rotary cannon (read big ass Gatling Gun) dominated the battlefield like no one Infantry Soldier ever could. That was thirty plus years ago.
The Air Force was trying to get rid of the A-10 back then and they are still trying. The A-10 is the cheapest combat aircraft in the Air Force to operate. The problem is the A-10 is the only Air Force aircraft solely designed for close air support. That means air-to-ground attacking.
If you're a fighter pilot, you want to kill Russian made Mig fighters and you cannot do that in an A-10, so the A-10 must be removed from the inventory.
This is a mistake, this is a potentially a criminal mistake. We will be in another shooting war in the deserts of Southwest Asia in the near future, and the A-10 is the King of the ground war fought in "sand."
I get why AF fighter pilots cannot wait to sacrifice the A-10, what I do not understand is why every Army and Marine Corp Infantry officer and Senior NCO is not writing their congressmen and demanding the A-10 be kept in the Air Force or transferred it to the Army and/or the Marines. The A-10 is an air-to-mud asset that cannot be allowed to disappear. Truly American lives will perish if the A-10 is taken from our future battlefields.
If our senior Air Force leadership refuses to understand this, (I suggest they do understand) then the pressure has to come from elected politicians who need votes. Army Air Defense Artillery has lots of missiles that can bring down enemy planes for a lot less than the cost of one new F-35 fighter aircraft. The Army has however, nothing in their inventory that can protect their Infantry on the ground as well as a Squadron of USAF A-10 Warthogs.
Some day the Air Force will either successfully defend or lose an air base (probably in Poland fighting Russians) and the A-10 will be the pivotal factor. Save the Hogs we will need them soon.
Major Van Harl USAF Ret. /[email protected]
About Major Van Harl USAF Ret.:Major Van E. Harl USAF Ret., a career Police Officer in the U.S. Air Force was born in Burlington, Iowa, USA, in 1955. He was the Deputy Chief of police at two Air Force Bases and the Commander of Law Enforcement Operations at another. He is a graduate of the U.S. Army Infantry School.  A retired Colorado Ranger and currently is an Auxiliary Police Officer with the Cudahy PD in Milwaukee County, WI.  His efforts now are directed at church campus safely and security training.  He believes "evil hates organization."  [email protected]