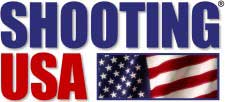 USA – -(Ammoland.com)- Shooting USA's Impossible Shots – Jerry vs. The Machine
Julie Golob takes over the show as guest host to introduce Jerry Miculek being challenged by an unpredictable target machine.
Can Jerry cut a card when he doesn't know where it will appear? Plus Cisko has gone Hollywood on us, with two-gun fast draw! And that gets Impossible when he adds an exercise ball to turn everything upside down.
Shooting USA – International Revolver Championship 2014
We're covering the annual championships for wheel guns and their fans, with the top revolver shooters at the Hogue Range in California. Plus, a profile of the only man to win two gold medals in his Olympic sport. Vincent Hancock is now teaching and training for another gold in International Skeet.
AIR TIMES BY TIME ZONE
The Shooting USA Hour Wednesday:
Eastern Time: 3:00PM, 9:00PM, 12:30 AM Thursday
Central Time: 2:00 PM, 8:00 PM, 11:30 PM
Mountain Time: 1:00 PM, 7:00 PM, 10:30 PM
Pacific Time: 12:00 Noon, 6:00 PM, 9:30 PM

Shooting USA is listed as a one-hour show in your cable menu.
Shooting USA's Impossible Shots:
Monday
Eastern Time: 4:30 PM
Central Time: 3:30 PM
Mountain Time: 2:30 PM
Pacific Time: 1:30 PM
Wednesday:
Eastern Time: 2:00 AM, 12:00 PM Midnight
Central Time: 1:00 AM, 11:00 PM
Mountain Time: 12:00 AM Tuesday, 10:00 PM
Pacific Time: 11:00 PM Tuesday, 9:00 PM
Saturday:
Eastern Time: 1:00 AM
Central Time: 12:00 Midnight Friday
Mountain Time: 11:00 PM Friday
Pacific Time: 10:00 PM Friday
NRA Annual Meeting & Exhibits
This is the week we get to meet the audience, at least 70,000 of you attending the NRA Annual Meeting in Nashville. This is the first time in 20 years our town has been the destination for three days of meetings and exhibits and we'll be busy covering the action. Stop by the Smith & Wesson booth to say Hi. We'll be there mornings each day from 11:00 to 12:00.
Follow the Action
Be sure to "Like" Shooting USA on Facebook for photos from the convention: https://www.facebook.com/JimScoutten.ShootingUSA
Jim
Defending the 2nd by Example in the 22st Year
www.ShootingUSA.com