CCI A17 Varmint Tip: A Hot Round is Born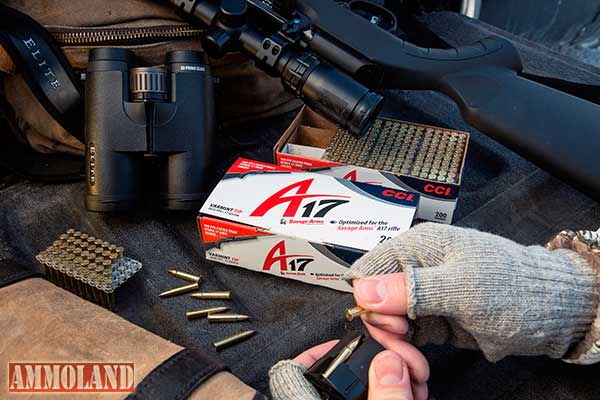 Suffield, CT -(Ammoland.com)- Rimfire ammunition icon CCI jumped at the chance to craft the ultimate compliment for Savage Arms' new A17, and in the process improved the speed, accuracy and performance of 17 HMR.
In designing the A17 Varmint Tip, CCI created a hot, screaming-fast load that delivers extended range, improved terminal performance and unflinching accuracy. As a plus, the faster, higher-pressure ammunition aids in reliable bolt cycling regardless of mitigating factors such as elevation, field conditions or temperature.
"It was a big deal when the fast, flat-shooting 17 HMR cartridge first came out," CCI Ammunition Category Director Rick Stoeckel said. "It was something new and different—a breath of fresh air for rimfire rounds. But the one hang-up was it could not be safely shot in a semi-auto platform."
When Savage engineers detailed the A17's revolutionary receiver, Stoeckel quickly realized it was something special.
"I knew it was something big—a system the world of rimfire had never seen before," he explained. "We at CCI pride ourselves in building specialty ammunition, and the A17 17 HMR is truly customized to fit a niche like a glove. I knew this rifle could be the foundation of new line of rimfire ammunition that would exceed what has been done in the past, and I knew CCI needed to be a part of it."
Stoeckel also knew joining the project meant CCI engineers would stop at nothing less than upping the ante in 17-caliber ammunition.
"We embraced the opportunity to increase the velocity of the A17 17 HMR rounds to make the final product even more attractive and desirable to rimfire enthusiasts," he said.
Indeed, CCI's A17 Varmint Tip took the round to new heights. A 17-grain, polymer-tipped varmint bullet provides rapid expansion, and the new load is 100 feet per second faster than its nearest competitor with the same bullet weight. It clocks in at a blistering 2,650 fps out of the muzzle and 2,000 fps at 100 yards. Plus it packs a wallop, with 265 foot-pounds of energy at the muzzle and 151 at 100 yards. Accuracy is likewise in the stratosphere, thanks to its flat-shooting trajectory and reliable ballistics.
"In the end, the higher velocity also optimized the A17's delayed blow-back system for flawless performance," Stoeckel adds. "It's important to note that the A17 rifle certainly functions well with other 17 HMR ammunition. But CCI had the exclusive opportunity to design specific ammo that provides the best performance and accuracy. This way, we could eliminate any guesswork that might stump customers when deciding what ammo they should feed their new A17 autoloader."
On the flip side, the new CCI A17 ammunition can most certainly be fired through bolt-action 17 HMR firearms.
"It was born to optimize the A17 semi-automatic rifle," said Stoeckel, "But shooters who own and use bolt guns will also love the faster, flatter performance as well, and hunters will appreciate the load's varmint-tipped bullet which provides explosive expansion for quick, clean kills."
The manufacturer's suggested retail price for CCI A17 Varmint Tip Ammunition is $66.95 for a 200-round pack.
A17 Varmint Tip
Shooters can now get magnum rimfire performance in a semi-automatic rifle, thanks to new CCI A17 Varmint Tip ammunition.
CCI engineers literally built this 17 HMR load around the A17 rifle from Savage Arms. The round is optimized for feeding and function in the all-new semi-automatic rifle, and produces muzzle velocities 100 fps faster than other 17 HMR loads with the same bullet weight. Its Varmint Tip bullet ensures explosive expansion and quick, clean kills.
Features & Benefits:
Optimized for feeding and function in the new Savage Arms A17 semi-automatic rifle and can be fired through bolt-action 17 HMR firearms
100 fps faster than other 17 HMR loads of the same weight
Varmint Tip bullet provides rapid expansion
CCI-made and primed case
Exclusive headstamp
200-round pack
Part No. / Description / UPC / MSRP:
949CC / A17 Varmint Tip, 17 HMR, 17-grain / 6-04544-61064-2 / $66.95
Learn more at www.CCI-Ammunition.com and www.SavageArms.com.
Savage Arms is a brand of Vista Outdoor Inc., an outdoor sports and recreation company.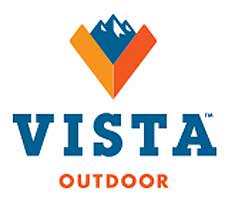 About Vista Outdoor
Vista Outdoor is a leading global designer, manufacturer and marketer in the growing outdoor sports and recreation markets. The company operates in two segments, Shooting Sports and Outdoor Products, and has more than 30 well-recognized brands that provide consumers with a range of performance-driven, high-quality and innovative products in the ammunition, firearms and outdoor accessories categories. Vista Outdoor products are sold at leading retailers and distributors across North America and worldwide. Vista Outdoor is headquartered in Utah and has manufacturing operations and facilities in 10 U.S. States, Puerto Rico, Mexico and Canada along with international sales and sourcing operations in Canada, Europe, Australia, New Zealand and Asia.
For news and information visit www.vistaoutdoor.com or follow us on Twitter @VistaOutdoorInc and Facebook at www.facebook.com/vistaoutdoor.