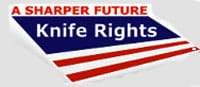 Gilbert, AZ -(Ammoland.com)- Oklahoma Governor Mary Fallin has signed Knife Rights' Knife Law Preemption bill, HB 1460, after passage by the House 81-4.
The new preemption law becomes effective November 1, 2015. Oklahoma is the EIGHTH state in which Knife Rights has passed a Knife Law Preemption bill. Combined with Knife Rights' Switchblade Carry Ban Repeal bill, HB 1911, that the Governor signed last week, preemption ensures that switchblade carriers will not have to deal with local restrictions on switchblades and that possession of all knives will be legal throughout the state.
Daggers, bowie knives and dirks are still prohibited from general carry in Oklahoma. Knife Rights still has some clean-up work to do in Oklahoma, but passage of these two bills this year is a huge step forward for Oklahomans.
Knife Rights congratulates sponsor Representative Kevin Wallace on the bill's passage. HB 1460 adds "knives" to Oklahoma's existing firearms preemption law.
Knife Rights passed the nation's first Knife Law Preemption bill in Arizona in 2010 and has since passed preemption bills in Alaska, Georgia, Kansas, New Hampshire, Oklahoma, Tennessee and Utah.
About Knife Rights
Knife Rights is rewriting knife law in America, aggressively fighting for a Sharper Future for all knife owners. Knife Rights is dedicated to providing knife owners an effective voice to influence public policy. Knife Rights promotes legislation that eliminates irrational restrictions on knife possession and opposes anti-knife legislation, as well as defending knife owner civil rights ion the courts. In the past six years, Knife Rights has passed pro-knife legislation in 13 states and prevented anti-knife legislation in four states. Knife Rights is also the lead plaintiff in a federal civil rights lawsuit against New York City's persecution of knife owners.
For more information, visit www.kniferights.org