HB 910 Licensed Open Carry Finally Passes, Just now in the Texas Capitol.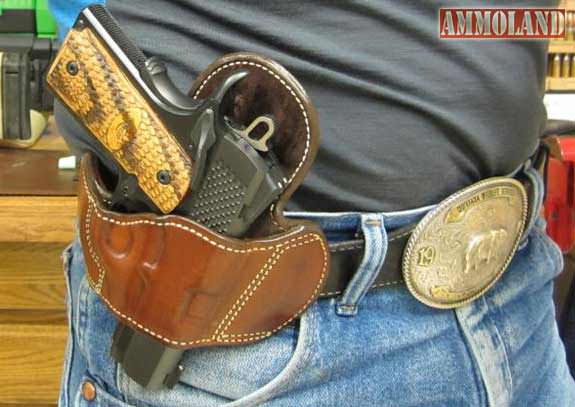 Houston, Tx –-(Ammoland.com)-  HB 910 by Rep. Larry Phillips (R-Sherman) was taken up in the House today to clean up differences between the House and Senate versions.
This happened around 5:00 pm and it passed!
Half an hour later in the Senate, Sen. Craig Estes (R-Wichita Falls) was recognized by Lt. Governor Patrick to take up the conference committee report, same reason, to clean up differences between the Senate and House versions. Sen. Rodney Ellis seemed a bit surprised! You see he had threatened to filibuster the bill and talk it dead.
That did not happen and minutes later, HB 910 by Phillips and Estes, is finally passed and headed for Abbott's desk!
Thanks, Members. YOU did it. This was the last steps! We're done!
We started this last spring, approached Rep. Phillips, he agreed. Then the NRA and I requested an interim study in the Senate and Senator Estes handled the interim study and now pushed the issue home.
Thank you Lt. Governor Patrick and thank you Speaker Straus.
And now all is up to Governor Greg Abbott to sign!
More later!
And as always,
Keep the faith.
Alice Tripp
Legislative Director
Texas State Rifle Association
the NRA state affiliate
About:The Mission of the Texas State Rifle Association is to protect and defend the inalienable rights of the individual Texan to acquire, possess, transport, carry, transfer ownership and enjoy the right to lawful use of firearms for self preservation, for the defense of family and property and the common defense of the Republic and the individual liberties of the people. Visit: www.TSRA.com