Hunting Gear Designed for Comfort and Functionality in a Warmer Climate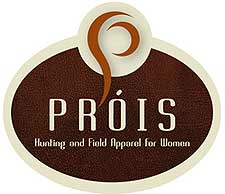 Gunnison, CO -(Ammoland.com)- If you're preparing for the hunt of your life – or at least one of them – check out Próis Hunting & Field Apparel's new Sojourn line of clothes for women, created specifically for safari hunting.
Made for women, by women, the new hunting line features a high performance short-sleeve shirt, lightweight hoodie and jacket designed to be as rugged and tough as the lands you will wear them in. While it may be hot, just like hunting in the cold, your gear including base layers matter when getting ready for a warm weather hunt.
The Próis Sojourn short-sleeve shirt and lightweight hoodie are made from a unique moisture wicking polyester/spandex, which is breathable and will allow for easy and fluid movement. To help shield your skin, sun protection is built into the shirt and lightweight hoodie, which has a UV protectant woven into the fabric. The Próis Sojourn hoodie also features zippered front pockets to stow lightweight items.
As you already know, animals have an acute sense of smell, and when in a warm climate, human odors tend to increase. Because of this, the Próis Sojourn line of clothes have underwent an odor elimination treatment which rids fabric of odors as well as works to minimize human odors. The Próis Sojourn Jacket has been designed to be durable and functional. Form-fitting, but built with plenty of room for movement and layering, the technical jacket has a traditional, classic look. Engineered with a 100 percent polyester shell, the jacket is lined with wool to protect you from the elements and provide enhanced warmth from morning and evening chills. With angled zippers and deep set pockets, the jacket is designed to carry what you need with easy accessibility.
All three pieces in the line – the short-sleeve shirt, the lightweight hoodie and jacket – have been designed for an athletic and flattering fit, meaning you'll be able to move easily – and, look good. The shirt, hoodie and jacket are sold separately. They are available in sizes XS through XXL and come in either khaki or olive.
For more information about the new Próis Sojourn line or to learn more about the company's innovative line of serious, high-performance huntwear for real women, contact: Próis Hunting and Field Apparel, 28001-B US Highway 50, Gunnison, CO 81230 · (970) 641-3355 · Or visit: www.proishunting.com.
About Próis Hunting & Field Apparel
Próis has garnered a great following of men and women throughout the industry through their wacky shenanigans and humor. Fondly called the Próis Posse, the Próis followers ramp up the craziness each day. Keep up with our lovably wacky team through Facebook, Twitter, Pinterest and LinkedIn. Warning: Próis social media is not for the faint of heart….and "your mom" is not really your mom…it's a metaphorical mom. You can also check out the latest updates on Próis field and pro staff and company news via the Próis blog.
For more information, please visit www.PróisHunting.com.