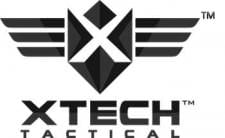 Mesa, AZ -(Ammoland.com)- XTech Tactical, an up and coming firearms accessories company, has expanded their offering of the patent pending ATG to include the FN Scar platform.
The Adjustable Tactical Grip allows the operator to easily change to any one of three angles based on their preference and mission objectives. The FN Scar is a platform well-known for its ability to adapt to the user's mission objectives. This platform paired with the ATG significantly increases the modularity and usability of the system.
In addition, the company has added a custom die cut rubberized grip tape to enhance the texture of the grip. All FN Scar grips purchased from XTech Tactical directly will initially include the grip tape pre-installed and custom mounting hardware. MSRP is $29.99 available in Black and FDE.
The grip tape will be available pre-installed on the AR15/M4 variant for $24.99 MSRP and individually for $9.99 MSRP. Stay tuned for more releases from XTech Tactical!
More on the ATG:
The ATG easily adjusts, with the included hex key, to each of the three most popular industry proven angles (17, 25, & 33 degrees). The robust design exceeds industry standards for quality, strength and durability. The subtle finger grooves, texture, and back-strap optimize comfort and control. This innovative grip is designed and manufactured in Arizona.
The ATG addresses a key gap in the modern sporting rifle's adjustability and is the ideal grip for any shooter or shooting style. Users will find that as the length of the stock or shooting style is changed, so will their preferred angle.
XTech Tactical was founded by a team of renowned engineers and manufacturing experts in 2013 and is headquartered in Mesa, Arizona. The XTech Tactical team is dedicated to manufacturing innovative products that enhance the shooting experience.
For complete information and where to buy, please visit www.xtechtactical.com. Like them on Facebook and follow them on Instagram.
About XTech Tactical
In 2013, XTech Tactical was formed to develop revolutionary firearms accessories for the AR style rifles and other small arms. The XTech Tactical founding members bring over 50 years of combined design-for-manufacturing and quality control experience. Collectively they are listed on over 35 US and International Patents, and have been part of taking hundreds of products from concept through production. Years of experience allows XTech Tactical to continuously introduce high quality, durable, and innovative products to the market. Its first release, the ATG grip, is an adjustable angle AR grip which easily adjusts to the three ideal angles of an AR style pistol grip. Each angle functions without any compromise on weight, durability or comfort, making it the ideal grip for all shooting stances or styles.
For more information, visit: www.XTechTactical.com.