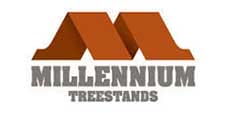 Pearl, MI -(AmmoLand.com)- Millennium Stands is known for having the sturdiest, yet most comfortable tree stands.
Easy to set up and with the highest ratings, hunters have come to expect nothing but the best out of any Millennium Stand. Millennium makes these great features and advantages available for hunting from ground blinds with the new Millennium G100. Hunters are not going to be disappointed.
Setup is always quiet and effortless, as the Millennium G100 Blind Chair has a folding design that makes everything quick and easy. Made with an exceptionally sturdy, yet surprisingly lightweight aluminum, the Millennium G100 has a weight of only 7.5 pounds with a capacity of 400 pounds, making it perfect bringing on any hunting trip.
Nothing ever gets out of sight in the Millennium G100. With 360-degree swivel and adjustable height from 13 to 18 inches, it is completely functional in every situation. Also, these Blind Chairs are made with Millennium's exclusive, patented comfortMAX technology and a contoured, tight sling seat, so an all-day sit is comfortable and doable.
With adjustable legs for uneven ground, there is never a place the Millennium G100 cannot be used. Perfect for any type of hunting, or even the sidelines of a soccer game or ball field, Millennium G100 exudes versatile excellence. The G100 Blind Chair from Millennium Stands retails at an MSRP of $199.95.
For more information on Millennium Blind Chairs, visit http://millenniumstands.com/products/ground/g100-blind-chair.
About Millennium Stands
Millennium Stands have long been recognized as the most comfortable stands on the market. From Texas to Alberta and South Carolina to Idaho, outfitters and guides know the best way to increase your chances in seeing a trophy animal is to sit in a prime location from sun up until sun down. Millennium stands are engineered for that purpose; to be the most comfortable and quietest stands period. Every angle, hinge and weld has been tested under the most extreme conditions by the most cynical and scrutinizing hunters. Each Millennium is the best compromise of weight, quietness, strength, security and comfort for its intended use.
For more information, visit: www.MillenniumStands.com.