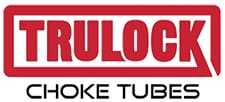 Whigham, GA -(AmmoLand.com)- Whether pass-shooting ducks or pulling the trigger on a wary gobbler that won't close the distance, Trulock Precision Hunter chokes will give tighter, more consistent patterns than flush-style chokes.
Custom-built by Trulock, the industry leader in custom-built chokes, the Precision Hunter is available for most popular shotgun models. This quality choke is an inexpensive yet dramatic improvement to your shotgun.
An extended choke tube like the Precision Hunter offers a better pattern with fewer holes than a flush-mounted tube. Also, the extended choke tube from Trulock is better at handling heavier payloads of shot and larger shot sizes. Pattern your shotgun with a Precision Hunter extended choke and you will see the difference from your factory choke. The Precision Hunter choke tube will increase your accuracy while increasing muzzle velocity.
Like all Trulock chokes, the Precision Hunter chokes are manufactured from 17-4 PH grade stainless steel, which has an extremely high resistance to staining and rust. Trulock Chokes are heat-treated to a high strength level (200,000 PSI), so they resist wear.
Precision Hunter Choke Tube Features:
Made from 7-4 PH grade stainless steel, CNC machined from solid bar stock and heat treated
Extended length
Knurled for easy installation and removal
Black oxide finish to reduce glare
The superior products and service from Trulock Chokes have made the company an industry leader. Trulock offers the same guarantee for the Precision Hunter as the company does with all their chokes, and that is improved shotgun performance, absolutely guaranteed. If you don't like the choke, return it within 60 days from the invoice date for an exchange or refund. With other companies, the moment you open it, you own it.
That's not so with Trulock. That's how confident they are that you will absolutely love your new choke tube.
For more information and to order online, visit www.trulockchokes.com, or call Trulock Chokes at (800) 293-9402.
About Trulock Chokes
The staff at Trulock Chokes prides itself on providing excellent service and an excellent line of products. In the event you are not completely satisfied with your purchase you can return it for a refund or exchange within 60 days from the date of purchase – with other firms, the moment you open it, you own it.
For more information, please visit www.TrulockChokes.com.